Sweet and Savory Café and Bakery
Getting to know the owner and about the local café/bakery!
March 3, 2022
The city of San Dimas has a wealth of great small businesses.  Savory Café and Bakery located on 138 W Bonita Ave, is just one of the many. In downtown San Dimas, Sweet and Savory is open Tuesday through Saturday from 9 AM to 3 PM serving amazing homemade breakfast and lunch as well as delicious pastries.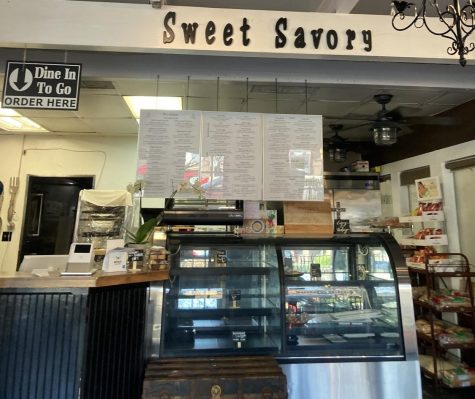 Haydee Diac- the owner, opened the bakery in late 2019. Diac has always loved cooking, especially from a young age. "Since I was little I've always been in the kitchen, it wasn't all so much about the bakery but about making meals and making different ideas that got me into this bakery," Diac states. Before moving to San Dimas, she previously worked in retail for thirty years and traveled to many beautiful areas around the world such as Mexico, Hawaii, Paris, London, Russia, Peru, Amsterdam, Belize, Canada, and Spain. "I always aspired and dreamed of having a little café and bakery," she mentions. As she traveled, she always saw ladies catering to customers and always said that when she retired she would love to open a bakery herself.
She chose San Dimas to open a business because it had been a previously owned business prior to being listed for sale. She loved that San Dimas had so much potential and the old western town look.  In her view, being on main street was a plus! Although previously owned, Diac loved the name,  "What I do is sweet from the heart but also with the bakery and then savory with all of my recipes." 
Watching different cooking shows and chef contests gives her inspiration for her recipes, as well as mixing different ethnic cuisines! At Sweet and Savory, there are a mix of different kinds of foods such as American, Argentinian, Asian, and Mexican. Although there are many different kinds of food, Diac states "I define myself now, by my cooking in my café besides making it with love, is all the experiences I've had with my travels."
As a business owner there are some hard challenges financially, utility wise, and ensuring to get the absolute best products needed for the bakery as prices are steadily increasing versus the prices of the food items being sold.  However, when overcoming these challenges Diac states, "I just focus on the next thing we need to do and make sure I keep going because I am committed." She also states, "One my is not just being a café owner but also making experiences for my customers and knowing that one of the things that matters is the experience they take away from us and second, I love to have high reputations and standards so I want to make sure that my customers are eating the
Diac loves all her sandwiches but also she loves when her customers ask to make them whatever she feels inspired to create for them!  It allows her to use her creativity and doing that inspires her as well. She just had added new additions to her menu supporting San Dimas, so look out for the San Dimas tuna sandwich (which is a cold tuna baja style sandwich), the San Dimas barbers tacos which were created in the name of the San Dimas barbers because they had actually requested for some keto options! Diac and her café/bakery loves to support other local businesses as well such as K2 Financial Partners and Sailors Brew Coffee. Diac and her team is also adding an extension to the café and it's called the Sweet and Savory Grab and Go. Gelato, different kinds of salads, and cold sandwiches are making an appearance with these future Grab and Go's! Be sure to keep an eye out for that. 
Diac actually works with her son and had also worked with her daughter previously. As much as she doesn't recommend it as it can be challenging at times, "the beauty of keeping the family close together and the opportunity that God gave me to spend more time with him and have him by my side is really what counts," she explains.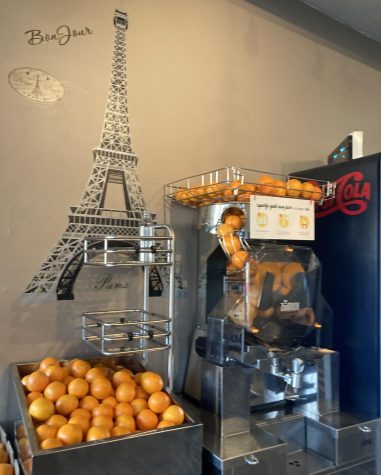 Opening in late 2019 not knowing that three months after she re-opened that Covid-19 would hit. "I will say that the past two years have been  very very challenging but God and customers have helped us lead the way and helped us succeed in what we are doing," she expresses. Although Covid-19 had a negative impact on the world, Diac states "we don't grow unless we have challenges." A chef came in one day and tried one of her sandwiches and then invited her to become a part of a project for Curative (a laboratory that works twenty-four hours a day with Covid testing).  She then proceeded to help and donate sandwiches and meals every week.  She holds that experience very close to her heart. "I was blessed to become a part of that and I am proud to tell you that during Covid and when we were closed, I still came to work and gave donations to the senior citizens with soups that are made from the heart and now those customers are coming back."
Sweet and Savory is all homemade food from the heart, make sure to try out the frescas and even squeeze your own orange juice! Also, follow their Instagram @sweetsavorycafeandbakery and make sure to stop by!