Boys Varsity Tennis Team Starts The Season With A Win
As one of the spring sports at San Dimas High School, the Boys Varsity Tennis team starts their first league game against Charter Oak. The team was excited about their first game and was hoping to get a win. This game would be a good representation of how their season will play out.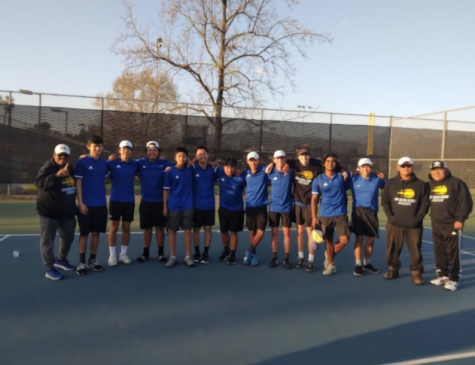 There is a ranking system, from best players to worst. Players that are in individual matches are called singles and ranked from one to three, one being the highest-ranking and three being the lowest. There are also doubles in which there're two people from the team on the court. Each player plays three rounds. All rounds are up to six points and whoever wins the majority of those matches, wins a point for their school. There are a total of 18 points and the school with the most total points wins.
"
" You can be strong and fast but if you come out here and don't know the technique, then that means nothing"
Even though the sport is more individualized in performance, the team cheers each other on for every match. Anyone is welcome to join the team, and the coaches take their time to teach new players about the sport and how the game is played. A lot of people who are not well versed in tennis don't understand that it takes a lot of technique to play. "You can be strong and fast but if you come out here and don't know the technique, then that means nothing," said, Senior Stefan Datwyler. Datwyler would go on to say that their most improved player since tryouts is Rowan Evans-Lampa because he has shown a lot of passion and determination when he plays. His technique has gotten better and the team looks forward to watching him win his matches.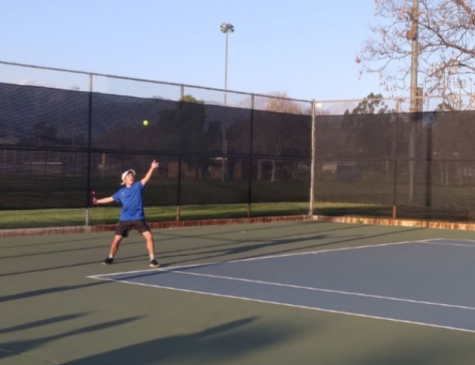 While watching Evans-Lampa's match, the team got excited when he did anything, his serves, rebounds, or when he scored a point. Other players from the game go on to describe how they did. "Matches went pretty good, lost two points I wasn't happy about, some mistakes on my end, but there's always room for improvement," said Ryan Kodama. Kodama plays doubles, so the effort he puts into the matches also affects his teammate. He takes accountability for how he performed and wants to use that to motivate him for other games.
The Saints ended up winning 18-0, making the start of the season a great one. That energy will fuel the team for every game going onward. It's a good representation of what the season is going to look like and the player's goal is to win every game in the league.