After, "After Hours"
ASB presents "After Hours" a dance that will celebrate authenticity and self expression in its truest form.
March 23, 2022
The glitz. The glam. The music. The lights. After a two-year pandemic that ceased without dances ranging in mid-formality between prom and homecoming, ASB presents "After Hours." A dance that will commemorate the Spring Fling that Juniors missed out on during their freshman year, a chance for underclassmen to experience, as well as a chance for seniors to come full circle as they close their final chapter on high school. 
The renewal of this year's spring fling is especially noteworthy because as many might remember, on March 13, 2019, the world was shut down just as talk of canceling the
"
I absolutely loved seeing the entire event come together in the way we planned it. Dancing under the mirrorball with the tinsel and lights surrounded by everyone shouting lyrics to our favorite songs felt so rewarding. On top of that. Seeing each person express their personal style with bright colors and glittery makeup was incredible. The whole night produced a feeling I never want to forget
— Abbey Ferguson
Spring Fling was bustling around. In recognition of the shutdown, the mask mandate was lifted on March 13, 2022, making for the first school dance with a full semblance of life pre-pandemic. 
To celebrate this fact, ASB has come up with "After Hours" as the theme of the 2022 Spring Fling. Think glitter, purple lights, dramatic makeup, and most importantly the theme honors authenticity and the freedom of self-expression, all values central to Gen-Z. The theme is also central to SDHS "Because the rally was rock musical festival themed, we wanted to throw an after-party. Music is what intertwines all of us together and we wanted to throw an event where everyone could express themselves," says senior, Abbey Ferguson.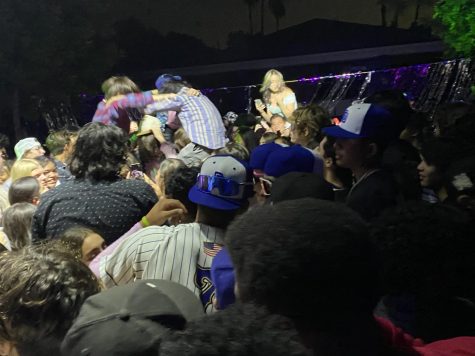 Abbey takes us behind the scenes as they describe exactly what planning goes into producing a dance-like, "After Hours." "The rest of the exec board, specifically Sydney and I, along with Mrs. Carson had to choose a theme, date, and DJ. There is a lot more that goes in behind the scenes when it comes to dances like these. We spent countless hours meticulously planning small details, from measuring the circumference of the quad and missing class period to building a balloon arch. It all seems so simple but it's an extensive process of event planning."
As the night commenced, streamers and strobe lights lit up the quad, as students fled to the dance floors to relish in the company of their peers and take on the night free of any worries. Students describe their highlights from the night. "I absolutely loved seeing the entire event come together in the way we planned it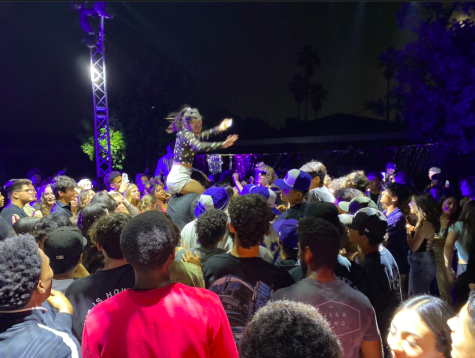 . Dancing under the mirrorball with the tinsel and lights surrounded by everyone shouting lyrics to our favorite songs felt so rewarding. On top of that. Seeing each person express their personal style with bright colors and glittery makeup was incredible. The whole night produced a feeling I never want to forget," describes Abbey. Sophomore Kevin Henein describes his highlight being the "moshpit with my friends and getting all hype when Carti played."