Luevand for Mayor
An incredible teacher coming to your San Dimas ballot box soon
One of our amazing teachers here at San Dimas Highschool is running for mayor of San Dimas. Mrs. Luevand, a chemistry teacher, is running for the 2022 election and is feeling excited about it.
The process of running for mayor is difficult and takes a lot of time. Luevand feels thrilled and happy about running for our San Dimas mayor. "There's a lot of work ahead so I'm excited and at the same time I'm looking forward to the work I have and what I can do to be just right," she states.
Running for mayor requires steps like pulling papers, starting petitions signed by registered voters, and getting a Treasurer that will file papers with the Secretary of State. Luevand considered running for mayor in January but didn't officiate the process until later this year. "I just didn't officially throw my hat in the ring until a little bit later, I wanted to make sure I had a team in place and people to support me and help me process because it's so involved, there are so many things that need to be put in place. It's definitely not something you can do by yourself," she expresses.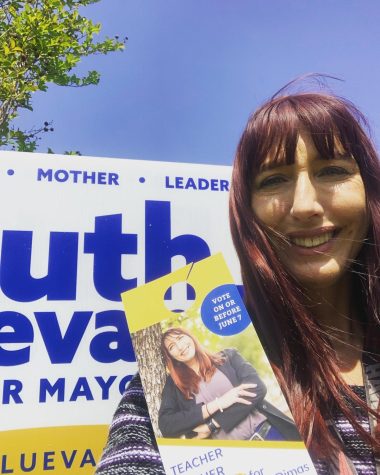 Luevand explains that she wanted to run because she really loves the city of San Dimas and wants to see it, as well as its community, thrive. Luevand has had previous experiences in politics so, it's nothing super new to her. She was Treasurer for Mt. San Antonio College and politically took a part in the Californias Teacher Association. Luevand is also part of the board of the National Education Association as well.
Her campaign plan is to focus mainly on three points. "I want to create better connections with career and technical education programs between the high school and the city of San Dimas," Luevand explains. She would love to see better career technical education programs offered that will enrich our wonderful city of San Dimas. "I also want to create better programs for our seniors and the City of San Dimas and the students, so that our seniors and students can communicate with each other," she claims.  It's important to have that connection with seniors because they are our most valuable resource and students should reach out to that important resource more. Seniors can help with homework and Luevand is considering creating an "Adopt-a-Grandparent Program" for this purpose. She is also planning, "a piece that is a revitalization of our downtown and how we can help prepare for the upcoming Metro System". 
Being a woman in politics can be brutal, Luevand feels that being a woman in politics is harder because of people's take on a woman running for politics with a family. She quotes, "I believe that a lot of people take a look at a woman in politics and they look at her family life and they consider that maybe a woman won't be as effective as they can be because they have a family in politics". Despite these ideals, Luevand can count on the support of her Saints family. Vote Luevand!