Royal Rumble 2022
Students Vs Staff Basketball Game 2022
June 1, 2022
On May 21st, 2022, the students of San Dimas High went head to head in a basketball game against the staff. This event was called the "Royal Rumble". There was a lot of hype for the game as it was advertised super well for a week before it commenced. Some key players that were expected to perform well for the staff included Mr. Coulter who has 25 years of experience in basketball, Mr. Flowers who used to play basketball in Australia, and Mr. Ketterling who's the head coach of the basketball team at San Dimas. The students had a team full of players who all play basketball for the school so fans couldn't wait to see who'd come out on top. At 4 PM, the participants were announced, and shortly after the game began.
The staff started strong as th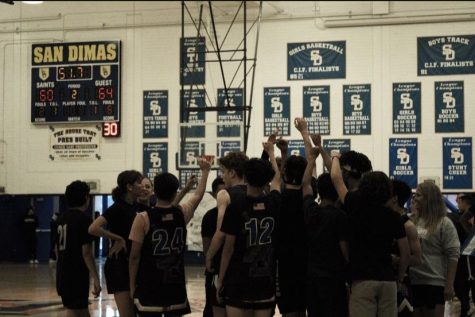 ey quickly scored 4 points, to begin with. The students seemed to be struggling at first but after about 3 minutes, they began to take over the game. Before everyone knew it, the students were up by 20 points. The game seemed to be over but the staff didn't give up and with the help of the refs, the staff fought back and were down 32-31 at halftime.
The second half didn't go well for the students as the staff kept the pressure on them. English Teacher Mrs. Lehrmann made a surprising shot to put the staff ahead but the students soon came back and tied the game. Eventually, tied at 58-58 everyone in the gym knew the outcome of the game would be determined by a final shot. The Overtime was all about the staff. The students struggled while the staff hit the majority of their shots. A key factor was Mr. Flowers draining 2 clutch 3-pointers which led them to win the game 66-60.
Overall, this year's Royal Rumble was a huge success. Students and parents came to show their support and although the staff was given points to help them stay in the game, the students still held their heads high and kept fighting. Ultimately, the students lost but displayed great character and sportsmanship.