The Notorious Life of Kiko
May 26, 2022
Jacob Nunez is a Junior at San Dimas, who has a passion for fashion. Jacob has a unique style that stands out from the rest. He tends to go with the growing trends and is one of few who can pull it off. His style is a mixture of Y2K and indie fashion, the pieces he sports mainly come from local thrift stores. Most of Nunez's outfits cost less than what a shirt from stores like Tillys or Pacsun would cost.
Thrifting is a huge part of Jacob´s wardrobe which has become a huge trend blowing up all over social media. Nunez finds vintage pieces of clothes for insanely low amounts of less than 5 dollars. When asked what inspires him to dress like this, Nunez says, ¨A lot of my inspiration has come from shows, movies, and social media.¨ Jacob, credited films such as, American Psycho and Fight Club for his unique style.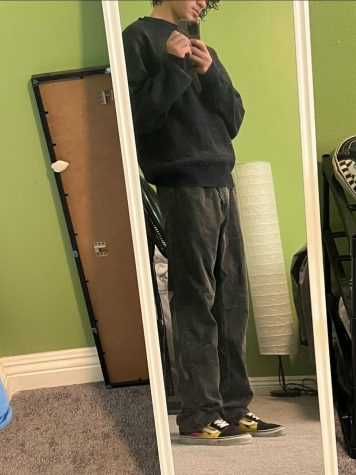 When he is not twerking on the walls at clash, he is curating daily outfits for school. Monday, Jacob wore black faded pants from Goodwill and an over sized navy sweater from Community Thrift. The pants cost him 4 dollars and the sweater cost him 5. Since the shoes were gifted, Nunez's Monday outfit of the day only cost him 9 whole dollars.
Wednesday, Jacob kicked it off with green corduroy pants from Community Thrift, a brown undershirt from Community thrift, and a navy vest from New Unto Others thrift store. Wednesday's outfit of the day was a total of 8 dollars. 
Friday Nunez topped it off with yet another insanely stylish but inexpensive outfit. ¨Almost all my clothes are thrifted which I find unique, most of my outfits cost under 10 dollars,¨ Jacob states. Jacobs style proves that price doesn't matter.