Costal Cleanup Day
Why Beach Cleanups are so Important.
September 29, 2022
San Dimas High Schools Environmental Awareness and Rotary Interact Club participated in this year's Coastal Cleanup Day on September 17, 2022. Students from both clubs joined together at Newport beach to help our environment while also earning three hours of community service from nine am to twelve pm. It was held by the Costal ca.gov organization.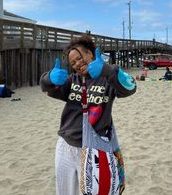 President of the Environmental club, Noa Berry explains that she had already known about the event from different environmental social media accounts, she made it a goal to accomplish it this year since she had missed the event last year. After exchanging information and doing a lot of planning, the event was a success. "As a group we walked across the shore and up on the sand and just started to look for any sort of trash," Berry explains. The club collected over four bags of trash; the trash bags included items such as cigarette buds and bottles.
Beach cleanups are important to the world because they make the Earth cleaner and help out the environment- more specifically the ocean. "We want to preserve our oceans and beaches, we want to make sure our animals are kept safe. As a global community our goal should be to protect and take care of Earth, part of that is to participate in beach cleanups," Berry states. Everyone should always partake in anything that will help the Earth since it is where all people live. Keeping the Earth clean is so important because it helps communities stay clean and safe for people to live on. To help partake in something that is beneficial to everyone, it's much simpler than people think. Berry explains, "It's as simple as cleaning up after yourself and if you can, picking up any other trash you see. Also bringing less waste at the beach- trash does not belong there". It's not a complicated thing to do, so everyone might as well just always clean up after an event or only bring what is necessary. It's also not harmful to always pick up trash on the way to the car or just leaving the beach. Even a group of people at the beach (just like the club) can always be super helpful overall just by picking up the trash.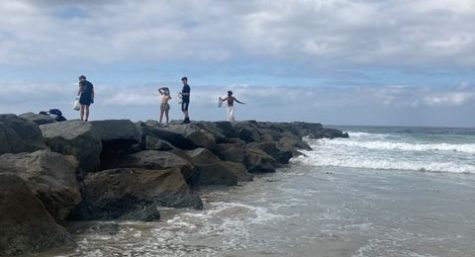 "Every little act can help, so by cleaning up local beaches we are doing a small part to help better our Earth. Those little things are the ones that count and add up," Berry expresses. She says that she would absolutely want to do beach cleanups again since every little thing does count. Beach cleanups are always helpful and always make a difference to make the Earth ultimately cleaner by just throwing away one piece or bag of trash. All students that are looking to help the environment can always start by joining the Environmental Awareness Club. The remind code is @92fg28.