A Tribute to Mr. Rocque
October 31, 2022
"
His friendship helped me through some difficult times and made me realize how important it is to have friends in every facet of life. He genuinely cared for others, and this sincerity was obvious whenever he would talk about his experiences with the students in his classes"
— Dr. Redfox
Over the summer our school lost a beloved teacher, mentor, and friend, John Rocque. He often substituted for classes at San Dimas High School. Teachers and staff here at the school spoke about him, and everything he meant to them.
Receptionist Jennifer Egan expressed how much she misses his presence here. "Mr. Rocque was so dependable and took every assignment given to him very seriously and very professionally. He loved SDHS and loved interacting with the staff and students, his knowledge was invaluable."
At any free moment he had, he would be looking to help, whether it be to help file in the front office, or make deliveries. "To SDHS, his qualities were everything we would want around our students," Egan said. "Mr. Rocque meant more to me than I can ever express in words. His kindness was immeasurable. He listened when I spoke, and he would offer his advice which was always the best. He would call me from other school sites to check on me if perhaps the day before or the Friday before I didn't feel well.  He would bring me medicine, he would share his recipes with me as well as all his pictures from trips he had taken and always tell me the best places to stay if I went on vacation… I could go on and on about Mr. Rocque.  He was like having a father at work with me. I will miss him more than I can express."
English teacher Dr. Monica Redfox also spoke about Mr. Rocque. Redfox mentions that Roque was one of her best friends here at the school. "His friendship helped me through some difficult times and made me realize how important it is to have friends in every facet of life. He genuinely cared for others, and this sincerity was obvious whenever he would talk about his experiences with the students in his classes; he always had anecdotes to tell about the students, and he was especially drawn to those who faced challenges and adversity in life yet worked diligently to overcome them in order to be successful. His face would light up when he spoke of the kids he had known throughout their years here, and he was so proud of their accomplishments. The most special thing about Mr. Rocque was that he was everyone's friend. I will always cherish the memories I have of our friendship."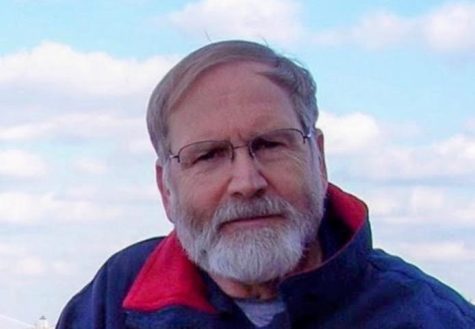 To our assistant principal, Mr. Jack Nance, Rocque was his "go-to" for anything to do with testing. "He was such a large part of AP Testing, SAT testing, and PSAT testing. It was good for the students to have a friendly and safe face for them to be greeted with when doing such difficult tests," said Nance. Nance also mentions that Rocque was always checking in on his kids who had him in their classes and loved him. "I will miss Mr. Rocque."
Rocque had students who respected him everywhere he went; we experienced his kindness and wisdom firsthand. The love for him will never go away at San Dimas High School.
One of the other many teachers who had a bond with Mr. Rocque was English Teacher, Ms. Kocalis. His passing came as crushing news to her family. "John Rocque was family. Not technically, of course, but here at San Dimas, everyone knew him. He was a wise sage to those of us who enjoyed listening to his narratives and anecdotes. He was the sub with the gentle voice that students were excited to see leading their class," said Kocalis.
Mr. Rocque's relationship with the students was especially important because he had a way of reaching out that many other teachers didn't. "He supported the SDHS Drama Program by attending our shows, and whenever he would attend a professional production, he'd drop by my classroom with a Playbill for me and a conversation about the show" Kocalis continues.
Mr. Rocque was from Long Island, New York, and when Ms. Kocalis' son left for college there he had plenty of advice to offer about life in New York. "He was always checking in with me about my mother's health after her stroke," said Kocalis. "As he was struggling with his own health issues, he was here at SDHS every day, working here because he wanted to, not because he had to. People don't do that often anymore."
Librarian Jodi Cruz said that she and Mr. Rocque met during her time as a substitute classified employee a while back. "I knew immediately he was a man of high integrity. He always treated the students as well as the staff with a great degree of respect and compassion," said Cruz. "He had his own kind of humor that could sometimes catch you off-guard if you weren't ready for it."
Math teacher Paul Kim was also close with Mr. Rocque. Noting him as a great man and so much more than "just a sub", Kim said, "John's empathetic and caring nature epitomizes who he was and it was evident in everything that he did. John always had good things to say about students, he took time to get to know teachers, and he genuinely wanted to make a positive impact on people with whom he had contact." Taking his job very seriously, he kept integrity, compassion, kindness and love closest to him in everything he did. Mr. Rocque's work ethic, friendship and good nature was as Kim said, a "testament to ideals and values that were close to his heart."
Kim continues to reminisce on Rocque's character, "John would often visit me in my classroom and we would talk about our lives, the current state of affairs, and our families. It didn't take long for me to realize that John genuinely cared about people, and I genuinely believe that anyone who knew him would wholeheartedly agree. He cared about his family, students, teachers, and staff. He cared about the decisions that people made, he cared about the well-being of their lives, he cared about policies and practices that were put into effect, and he cared about so many other things, both big and small. He was a man who cared, and he cared truly and deeply."
Grieving is something that is immensely hard for a single person, but there are many of us who experienced the loveliness that Mr. Rocque brought with him. With his passing, no doubt we will always feel a sense of that missing puzzle piece. A family member no longer with us, but always remembered.
Sadness will always come on its own; it's natural and integral to who we are as humans.  As a community having gone through a loss, we can keep a part of Mr. Rocque's spirit alive with us at school by living out some of the examples he set for us. In a world often full of darkness, Mr. Rocque was a light within it.
Mr. Rocque, you will never be forgotten. It's sometimes rare to experience somebody so exceptionally wise in our lives, and you were that person. We love you and are so grateful for the time we had with you here at San Dimas High. Thank you for all you are. Though you'll be missed, we will always feel the echo of your strength and knowledge as a person, as one of us.