Saints Defeat Panthers at 2022 Homecoming Game
San Dimas Saints came back in third quarter to win the 22' Homecoming Game.
October 31, 2022
On Friday, October 14, the San Dimas Saints defeated the Diamond Ranch Panthers in dramatic fashion at the Saint's homecoming game. The win over the Panthers, extended their record to 6-2 while being their first conference game in the Valle Vista League. It was a high-energy game between the two programs, however, the Saints handled the adversity and came out on top. 
Going into the game, The Saints felt confident and prepared in their first league match-up against the Panthers. The defense knew what they had to do, and the offense just needed to progressively put together well-strung drives. As long as San Dimas played to their full potential, they knew they were going to put on a great game.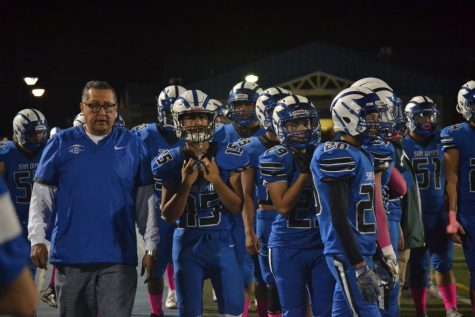 The first half was a slow start for both teams offensively, however, the Saint's defense looked strong. The Saints smothered the Panther's run game, and kept the passing game to minimal yards. Overall, the first half was a defensive display between the two teams, sending it to halftime tied at 0-0.
At halftime, Homecoming Queen was announced. Each of the nominees were carried by their friends and escorted to the center of the field. The nominees of the court stood on boxes, and awaited for their escorts to break open the box next to them to reveal who won. The boxes were filled with balloons and whoever had gold balloons was voted winner of Homecoming Queen. The students' votes went through and Senior, Varsity Volleyball Captain, Franki Coleman won Homecoming Queen. 
In the second half, the Saints looked like a completely different team offensively. Early in the third quarter, San Dimas put together two solid drives which led them to great positioning on Diamond Ranches' goal line. Both drives ended in short runs into the end-zone, putting the Saints ahead 14-0. The Saints had established a healthy lead, however, an altercation occurred between the two teams causing both teams to lose key players. Despite the adversity, of losing 4 key players (including their quarterback and defensive end), San Dimas went on to score another touchdown and held Diamond Ranch to only one score. San Dimas came out on top in an impressive win of 21-7 over Diamond Ranch, in the 2022 Homecoming Game.
Notable performance from the Saints Running back and Homecoming King, Brian Freeland who ran in 2 of the 3 touchdowns.         
When prompted with the question of what changed after halftime Defensive End Coach, Jordan Taylor said, "In the first half we came out ready to play, however, the little altercation we had in the second half gave us a little boost. We lost some key players in the second half because of the altercation between both teams. The way we finished the game we had a little chip on our shoulder because we lost 4 key guys, and it amped us up and allowed us to go up two more scores."