Saints Go Trick-Or-Treating! Or Do They?
Halloween is on its way, along with a choice that high schoolers' have to make
October 31, 2022
During the month of October kids of all ages put on costumes and go around collecting candy for fun, but has the time come to an end for high school students? During the years of high school is when students and their peers notice that they may be getting a little too old for this celebration, but how true is this stigma?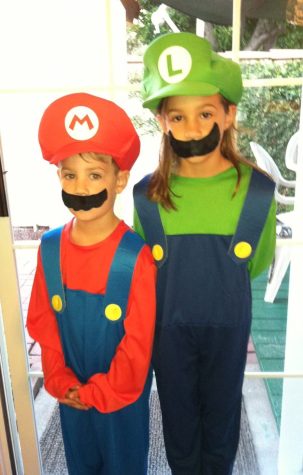 Most San Dimas students are going out to parties, hanging out with friends, or passing out candy on Halloween. Junior, Kailey Tapia says, "This year I am going to pass out candy with my mom." Tapia also contributes to the idea of not trick-or-treating due to the fact that, "I don't trick-or–treat anymore because the rest of my friends don't, and I don't have any other siblings so I got over it because I don't have anyone to go with. " Many high schoolers' dependency with participating in events in October rely on if peers or friends will be doing the same.
Not all students stopped trick-or-treating though, such as Junior Maddie Hass. Her plans are to spend Halloween night dressed up with friends and enjoy themselves as they collect candy around neighborhoods. "I believe that a reasonable time to stop trick-or-treating is during high school," she says, "unless you are going with your friends, then that is okay, but by yourself that's a little weird." Looking at Hass's point of view, we can infer that the criteria for trick-or-treating in high school is determined by the social conduct of the event.
Halloween night is once a year while the memories are forever. So even if there ends up being a door shut in your face – by Mrs. Lehrmann who claims she will hand you a job application- instead of a candy bar, remember and cherish those experiences. Youth is only so valuable for the time granted among people of all ages. Stay young for the time given, Saints.