Dancing in the Rain
Students at homecoming were drenched due to the unforeseen storm.
October 31, 2022
On the night of Saturday, October 15, 2022, staff and students of all grade levels gathered at the beautiful venue of Silver Lakes in Norco, CA for San Dimas High School's Homecoming. The theme of this year's dance, "Derby at Dusk" created a lot of controversies; however, they were quickly forgotten once everyone had to bunch together under easy-ups due to the unforeseen storm that ended up flooding the dance floor as well as the rest of the venue.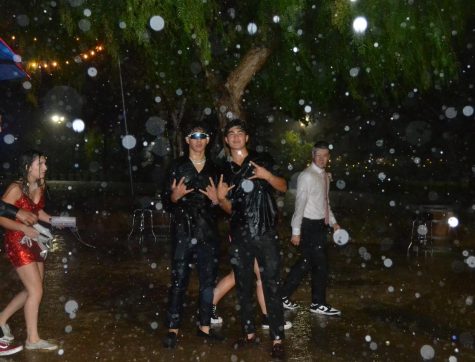 While it may seem that this could have ruined students' homecoming experience, some students thought that this made the night more memorable. Freshman Sydney Stewart recalls a moment from that night that she will never forget, "I have a core memory of just running and dancing in the rain."
Senior, and Homecoming Queen, Franki Coleman noted that the rain made the experience "movie-like", "when it started raining, it added a little bit of spice, it felt like it was straight out of a movie." Many students decided to leave the dance at the first sight of rainfall while others decided to stay and see how the event played out.
Although there were many who found the rain picturesque, some students believed that the rain actually ruined the fun, including Junior, Andrew Robles, "I feel like if it didn't rain and I wasn't soaking wet the entire time I would've had more fun."
There were also some parents who were upset with the outcome of the dance; demanding the administration refunds of tickets. The administration responded to the criticism by giving free tickets to the upcoming Spring Fling to all those who paid for homecoming tickets, as well as outside dates who attended. 
When asked if the parents' anger was warranted finance clerk Tracy Robles said, "It's not for me to say whether somebody's feelings are valid or not, obviously if they feel a certain way it's valid, my thoughts are just, I wish that there was more of a conversation." She goes on to say that their sole purpose is to put on an enjoyable event for the students and that they tried their best to prevent the rain from ruining the dance. She notes that the rain was just something that was outside of anyone's control.
Even though there were some unexpected aspects to the dance, the venue was coordinated beautifully by ASB with a great DJ, delicious food, and lots of dancing. The dance was a memorable night, to say the least, and is one that will notoriously live on in the minds of all who attended.