Wellness Center Grand Opening
Saints Work Together To Create A Safe Space To Enjoy Each Other's Company
October 31, 2022
Mental health specialists Kean Flowers and Diana Zuniga have worked hard for the grand opening of the Wellness Center Monday, Oct. 10th, National Mental Health Day, after school. The Wellness Center was created to provide a place on campus where students can feel included and understood. Flowers had asked students to create their own piece of art that he would then gladly display in the center.
Art is a large form of emotional expression and Flowers planned to use that to help students create a connection with the Wellness Center. He had asked student artist, Peter Phan, to create an art mural for the Center and had set up a station for three days in the quad during 5th and lunch. Flowers welcomed all students to express themselves through paintings and create a personal connection to the Center through the display of their art.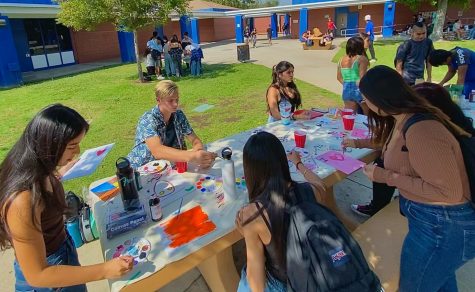 The Wellness Center project had been an idea at San Dimas High School for years, only recently taking off due to the hard work of Principal Scott Sparks, Flowers, Zuniga, and other members of the project. Staff has been working with city officials to make the project a success. 
Flowers expresses his goals for the Center, "I envision it to be a hub for mental health and well-being and an inclusive space for all students to develop and foster a strong sense of self."
In these changing times, schools across the world are starting to take into consideration the mental health of their students. This Center is only one extension of San Dimas High School's attempt to connect and interact with students in a more cherishing way. Although lots of mental health issues in students stem from personal problems, a handful of those hardships come from the stress of school and extracurriculars.
The opening has brought together students, teachers, city officials, and other community members to the important topic of mental health but more specifically the mental health of students in hopes that the Center could improve the lives and relieve the stress of students. If a student is struggling with their schoolwork load or just needs a quiet, safe space, the Wellness Center is a perfect option; that is its purpose, after all.