A Trip To Olvera Street
SDHS Spanish National Honors Society travels to Olvera Street
November 30, 2022
On November 2, the SDHS Spanish National Honors Society traveled to Olvera Street, Los Angeles in honor of Dia De Los Muertos and the culture. Dia De Los Muertos is a Mexican/Latin American celebration in which people make ofrendas (offering alters) for their deceased loved ones and celebrate their lives, its also believed that on this day, dead loved ones come to the land of the living from the land of the dead. Olvera Street is noturius for its abundance in dia de los muertos celebration; with food, face painting, art, dancing, ofrendas, and much more. It was a time for students to learn about this tradition and culture, to experience it with their senses rather than just hear about it in a classroom; after all learning is not just pen and paper.
President of the SDHS Spanish National Honors Society, Sarah Barraza, talks about coming up with the idea of where to go and why to have a field trip in the first place.
"So we wanted to do like some sort of field trip to recognize Dia de Los Muertos and originally we were gonna go to the Hollywood Forever Cemetery, which usually is a big celebration for it with ofrendas and all the decorations; but unfortunately, we could get all the information, barley anything was available. So we thought of another place that's beautiful and known for dia de Los Muertos and we ended up deciding on Olvera street since many of us had already gone before; we thought that be a cool thing to recognize dia de Los Muertos"
Field trips are always something exciting, to be able to experience something completely new or have a new change to their daily schedule is something that can help students take in information better and in a more memorable way.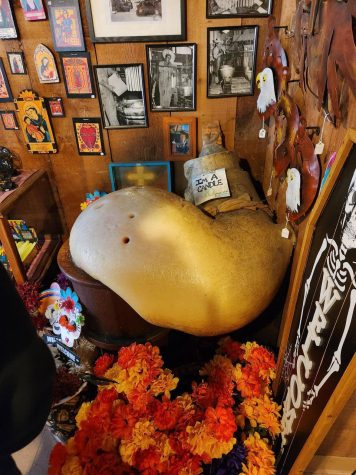 "I feel like it [field trips] open up people's knowledge and also the perspective of the world because if we're very close-minded, we don't really understand other people's views and cultures. So by learning about different cultures and by how people celebrate them, that really allows someone to be more aware of the people around them and be more united, we can become more united as a society…I feel like especially for students, its a learning opportunity but also time for someone to have fun and decompress but also take something out of it"
Olvera street was filled with colorful decorations, vibrant music, delicious food, well-made handicrafts, and much more! There was even face painting, as people's faces were painted as Calaveras (Skulls that represent those who have passed on), and news stations also appeared! Olvera street was a place for students to admire the beauty of culture but also the beauty of celebrations and unity between people, a place where no matter your background you could experience together and take in a new experience to remember for a lifetime.