Signing Day for the Saints
Three SD athletes commit to Universities to pursue their athletic careers.
November 30, 2022
National Signing Day, on November 9, 2022, was a special day for three Saints: Maddie Arochi, Franki Coleman, and Ryenn Zerbel. Those athletes committed to Universities to further their academic and athletic careers. They were recognized for their great accomplishment in front of other students, friends, teammates/coaches, and family members. All their hard work had finally paid off and they found the school they wanted to spend the next four years. 
Committing to a university is a big deal for athletes and it was a special moment for them to be recognized for all the work they put in to get to where they are now. "It felt great knowing that all the literal blood, sweat, and tears I've endured over the past 14 years has gotten me this amazing opportunity," said Senior, Cal Baptist University STUNT commit, Arochi. They had all spent most of their lives working toward this opportunity, and for them to see it all play out the way they hoped was an amazing and rewarding experience for those athletes.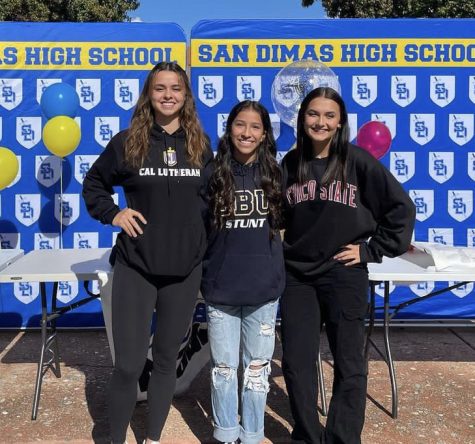 Most seniors stress about what they want to do after High School, but these athletes knew exactly what they wanted to do. They may have not known where they were going to continue to play their sport, but they knew they wanted to play it in college. At a young age, they had it set in their mind that they wanted to play their sport at the collegiate level, so they pushed themselves past their limits to achieve their dreams. 
Although they knew they wanted to play in college, the recruitment process wasn't easy for any of them, "for me, the recruitment process came with a lot of emotion. Oftentimes you feel a lot of self-doubts," said Senior, Chico State soccer commit, Zerbel.
These athletes did everything they could to be seen by different coaches/schools; they hoped that one of the coaches liked the way they played enough to be considered for the team. "It was very stressful, every time I played I would be sending 20 plus emails to different coaches and making highlight videos," said Cal Lutheran University volleyball commit, Coleman. They didn't let the self-doubt and stress get to them, and they were determined to achieve their goal. 
The feeling of accomplishment after they committed and signed put these athletes at ease because they knew that they had put in the work needed to play college sports. Their stress of finding a school had finally come to an end. "It feels like a weight has been lifted off my shoulders, and it is a relief having everything planned out," said Senior, Arochi. These three Saints had been determined to reach their goals and had put in countless hours of hard work to make it happen. Nothing was going to stop them from pursuing their dreams, and they are now one step closer to living out their dreams of playing in college; they can focus on making their senior year the best because they don't have to worry about getting into a University anymore.
Coleman, Arochi, and Zerbel have accomplished something that a lot of young athletes wish to do in the future, the appreciation and opportunities they have received are well deserved. The endless work and dedication of these athletes have taken them to the next step of living out their dreams. Huge congratulations to the three of them, and lots of luck.