The Current State of the all-American Yard Sale
In the Time of Depop, are garage sales over?
November 30, 2022
For years, the City of San Dimas has advertised and facilitated garage, estate, and yard sales with hundreds, if not thousands, of goods, exchanged. But as e-commerce continues to increase and the romantic city setting decomposes, many San Dimas vendors and buyers doubt the garage sale's continuance. 
"This is the first and last time I'm doing this," a local vendor named Oliver extolled. "It's too much [work] and almost no one comes anymore." 
A Sunday Morning Sale paints a picture of a bustling, neighborly affair. But, a November 13th sale was only occupied by three San Dimas residents, the seller included. "I was so surprised that even you [sic] came here," Oliver said. 
His wares were what one would expect for a retiree's yard sale: vintage furniture, floral-print lamps, remnants of his previous jobs, and cookware. This, in the words of Oliver, was a last-ditch effort to rid himself of "junk and old things" before either a trip to a local thrift store or a mid-week call to waste management. The rather drab feelings Oliver associates with his wares are, certainly, reflected by the only other patron.
Retired schoolteacher Ruby Dee Brown recalls similar affairs to this from her childhood: "Back then, my Dad'd sit on a lawn chair, have some pretty good stuff, and all of our neighbors'd [sic] walk by, chatting and buying." But as time and technology progress in both influence and scope, the in-person social connection of yesteryear wanes, almost fading out of existence.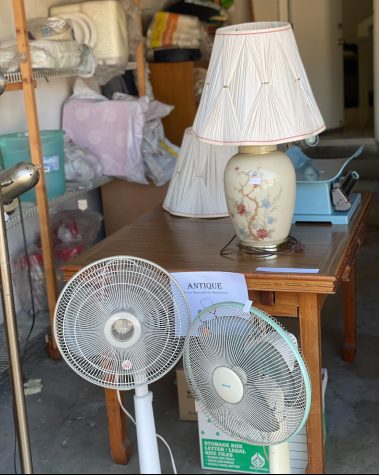 "My granddaughter is into the thrifting businesses. I mean, way back when, you'd sell clothes on a table but now it's app this an app that," Brown lamented. Popular apps and websites like Poshmark, Mercari, Facebook Marketplace, and Depop have eclipsed the neighborly events Brown fondly remembers. 
In the Era of E-Commerce, is the melange of suburbia and front-yard interactions gone?
Brown and Oliver believe so. "Why come out at 7 AM to buy things you can get online," Oliver states. The ease of apps and websites is the main draw and selling point for modern consumers. The same-day shipping of Amazon and the home-bound perusal of the aforementioned thrifting-based apps overshadow virtually all positive aspects of their competitors. 
Brown corroborates this point. She says that "anything achieved in person can be done [sic] online and it's faster too." 
But does shopping have to be this way? Are modern buyers relegated only to apps? Or can the social and classic American be reinvigorated in the newer generations?