Boys Waterpolo Wins C.I.F. for the First Time in School History
Boys Waterpolo brings home the C.I.F. title.
November 30, 2022
On Saturday, November 12th at Irvine High School the San Dimas High School Boys' Water Polo team beat Don Lugo High School to win the first CIF championship in school history. To get to the championship game the boys had to win 4 games in a row, they were successful in beating, Palm Springs 20-3, Saddleback 15-5, Oxnard 13-6, and then Buena Park 10-4. It was a long and challenging road to get to the championship, but the Saints did it with the guidance of head coach Danny Feola and assistant coach Paul Vincent Pignotti.
The first quarter ended with a score of 2-0 with goals scored by Sophomore, Travis Pang and Senior, Captain Killian Pressley. This was a strong start for the boys and gave them confidence moving forward in the game, Pressley explained, "it was a confidence booster and it felt good knowing that we could compete with this team."
Heading into the second quarter the Saints were ready to keep fighting and that is what they did, Junior Diego Zazueta scored three goals and Pressley scored another. Although the Conquistadores did score two goals in the second quarter the Saints were still up by four making the score 6-2.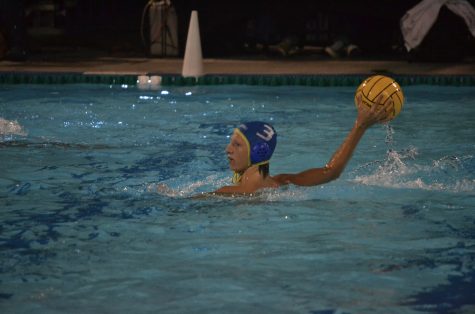 During the 3rd quarter even though the Saints were up by four they knew they had to keep their head in the game and not let up. At the end of the quarter, the Saints had extended their lead by three making the score 9-2. The Saints could see the Conquistadores becoming upset with themselves so they used that to their advantage, "I could definitely feel that we were going to win because as we continued to score you could see them getting scared and they started messing up" says Pang.
Starting the 4th quarter the boys were ready to win and even though there was a high amount of confidence in the Saints, everyone was still anxious for the last seven minutes. The 4th began and the Conquistadores weren't going down without a fight, they scored four points, but the Saints were ready to take the win and scored three points making the final score of the game 11-6 with Zazueta scoring 5 goals, Pressley scoring 3 goals, Pang scoring 1 goal, Junior, Nick Tatevossian scoring 1 goal, Sophomore, Anthony Duenes scoring 1 goal, and 12 saves by goalkeeper Daniel Gonzales. Sophomore, Captain Andon Hanson had 6 assists and Pressley had 5 assists, both of which have been vital members of this team all season long.
The Saints won their first CIF championship in school history which is a goal that Coach Feola has been determined to accomplish for the past 13 years of coaching at San Dimas, "after we came up short in 2015 you kind of think, oh am I ever going to make it back to this then we made it and won and it was just pure joy."
This team of boys enjoyed playing together and watching them you could see they had undeniable chemistry, "I am stoked on how this season turned out and I couldn't have asked for a better team to win CIF with" says Pressley. After a great deal of hard work and dedication, the Saints are the 2022 CIF-SS Division 5 Champions.