The Royal Wedding of San Dimas High School
Congratulations to Mr. and Mrs. Feola
San Dimas High School's beloved history teacher, Danny Feola, just got married. Married in November 2022 in San Diego, Feola entered his wedding through a boat and made a grand entrance alongside his groomsmen. 
They first met in 2020 through mutual friends but also matched on a dating app, that's fate right there. "Not a super long time but enough for us to know we are meant for each other," Feola states.
After being together for two and a half years, Feola and his wife got engaged in March 2022. He popped the question in Glamis after pranking his wife that their buggy broke down. Feola had other proposal ideas, such as proposing while they were repelling but since Glamis is a special place for both of them, he chose Glamis for the location.
Fast forward to wedding planning, his wife planned most of it, but he did give his input here and there. However, he did come up with the food options and the sailing idea.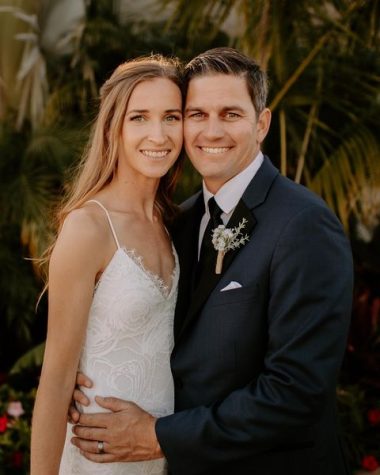 The sailing idea all started because of a trip they took. Feola explains that he and his wife had taken a trip down to Cozumel, Mexico and the resort they stayed at had catamarans. So, while they were there, they sailed. "When we picked the spot in San Diego in Mission Bay, they had the same catamarans we sailed on, so I thought that it'd be cool to sail in on it," he explains. 
Another untraditional but rad thing they did was cut pizza instead of cake. Feola states, "We were like, you know what, let's do a pizza cutting, it'd be different and fun". While cutting the pizza, their DJ played Italian music to set the mood.
They picked San Diego as their wedding location because it was convenient for their guests not to go too far and stay for that weekend. They had other places in mind, like Mount Baldy but ultimately went with San Diego for their destination wedding. "When we went down to San Diego and saw the location, we knew it was the location we wanted," Feola mentions. 
The Saturday before their wedding, they had all the guests come to a rooftop to meet and have dinner. With their reception, he loved that everyone just had a ton of fun with each other and dancing. Even after the reception ended, they all just walked to places nearby and still had fun.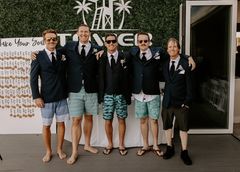 To describe the day, Feola says, "it was perfect, memorable, beautiful, and fun." He even invited former water polo players, swimmers, and San Dimas staff. "There was a big San Dimas contingent there," he states. Even the pizza makers, pie makers, and videographers were all former students and players of his. 
Feola had even sent out a Remind link to all his students to watch the ceremony. Even on an important day, Feola had sent out a link to all his students to watch the beautiful ceremony. "I just had remembered everyone wanting to be able to see it and since I already had talked to [the videographer], I asked him if it was good and he said yes, so then I sent out the link then that's when I was done thinking about it" he states.