SDHS Cheer Team wins CIF 2023
Cheer got their redemption at CIF 2023.
January 31, 2023
On Saturday, January 21, 2023, the San Dimas High School Cheer Team competed at CIF Southern Section in Division 2A and came out with a win. After a devastating loss last year at CIF, the SDHS Cheer Team came back hungry for redemption. They had spent the whole week practicing to prepare for the competition because they knew they had something to prove to not only themselves but to everyone else. 
Leading up to the competition, the Saints practiced every day to ensure they were ready. There was no time to rest when they had one of the most important competitions of the year coming up. "Even though we don't really enjoy the early morning practices, we knew we had to practice as much as we could to make sure we were confident in ourselves," said Junior, Holly Martinez. Confidence is key when it comes to cheer, so perfecting their skills at practice gives the athletes that confidence to go on the mat and do their best.
"In warm-ups, everything was going good, we were hitting our stunts and there was a sense of calm," said Junior, Peyton Davies. Normally, warm-ups are where the nerves start to build up and the athletes start to get in their heads, but these Saints were confident in themselves and were ready for redemption.
Even though they were confident, sometimes things don't go as planned and it was just one of those times for the Saints, but they were taught by their coach to always recover after a mistake and that's exactly what they did. Although the routine didn't go exactly as they hoped, with a drop and a few other minor issues, they knew they still had a chance because of the difficulty of their stunts and their energy in the cheer.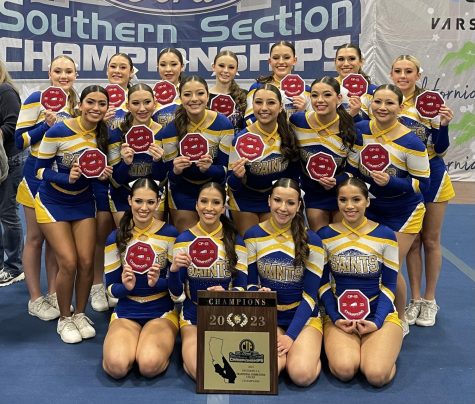 The Saints were nervous going into awards, and at that point, all they could do was hope that their routine was still good enough to beat the other teams. Turns out the routine was good enough to win by four points, even after a two-point deduction.
"Once they announced San Dimas as first place, all the nerves left my body and I was just so happy that we finally got our redemption," said Sophmore, Ireland Ries. All the hard work put in paid off in the end and they got the redemption they wanted. Winning gave them the feeling of accomplishment that they had been striving for, and winning CIF was a good way to start their "redemption tour" as the cheer coach would say.  
The season is not even close to being over after CIF, but the win gave them the urge to continue to pursue that feeling of accomplishment. The hard work doesn't stop now for the Saints as they go into the rest of the season excited to give it their all.