"Bloods, Crips, and Starships"
Mr. Coulter bares it all in new memoir "Bloods, Crips, and Starships".
February 27, 2023
"Bloods, Crips, and Starships," a novel by San Dimas' very own Mr. Coulter, guides audiences through the memoir of his childhood in South Central LA and the lessons he learned about conformity, identity, and leadership. Coulter illustrates his lived experiences from boyhood and on through the scope of his reality that required an early awareness of the sharp polarity that came along with gang boundaries and dynamics.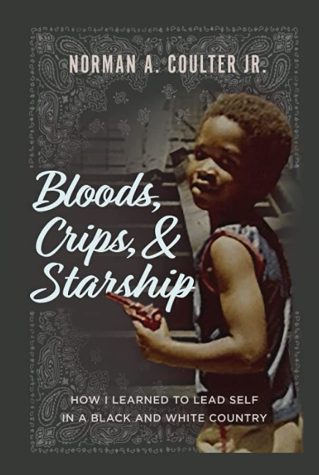 "I was probably in the first or second grade the first time I was confronted by somebody about my colors because
I was wearing a spiderman shirt that was mostly blue." He explains that many of us can find ourselves caught between two worlds with no option for neutrality so the idea of Bloods and Crips being in the title was also metaphorical. Starships on the hand is said to have many different connotations but for Coulter, it is more personal as it was the kind of 80's white soft rock music that traditionally did not resonate with the "hood."
The novel chronicles the juxtaposition of the expectations placed on young black men in South Central to the sharp contrast expected as he first entered schooling in upper-middle-class neighborhoods. From one place, there was an expectation of conveying this "hyper-violent" facade or staying vigilant to another world that required daily three-hour commutes to a sphere where knowledge of this life had yet to exist. 
Through the memoir, Coulter is able to speak up about the importance of vulnerability throughout his life particularly in regard to being able to ask for help. Likely, many of us often find ourselves neglecting to put aside our pride, but he outlines those moments when we lose control over our own narrative as the time to be accepting of help from others. 
In a space where society constantly confines and redefines peoples' identity, "Bloods, Crips, and Starships" breaks down the journey of feeling inadequate to channeling how to write your own personal narrative. Coulter highlights black American boyhood as he shares how his tribulations and triumphs led him to aligning with himself and becoming that beacon of hope for others.