USA Cheer Nationals 2023
SDHS Cheer Team makes San Dimas History at Nationals.
February 28, 2023
The third stop for the San Dimas Cheer Team's "redemption tour" was USA Cheer Nationals. Nationals is one of the most important competitions of the season and they spend their whole season preparing for it. This year they took three different routines in the divisions of Varsity Show Cheer Intermediate, Varsity Group Stunt Intermediate, and Sideline Situational. The SDHS Cheer Team was ready to give it their all and spend one of their last big moments together as a team no matter the outcome. 
This was the team's last competition of the season and the cheer coach's last Nationals with San Dimas High School. The Cheer Team walked into the competition knowing after this weekend, they would never do those routines again, so they wanted to give it their all. Although they knew they had a job to do, they also wanted to make the most of their last time competing with each other and their coaches. 
The Cheer Team walked on the stage for their Intermediate routine feeling confident because of their good warm-up, but the routine didn't go as planned. With 3 drops, the Saints were unable to move onto finals. In that tough division with 30 teams, they only took the top 25 percent to finals, and with the drops in routine, San Dimas was not a part of that percentage. The placements were so close together that the scores between first and eighth were separated by no more than 3 points, so it was a fight for the teams that did make it.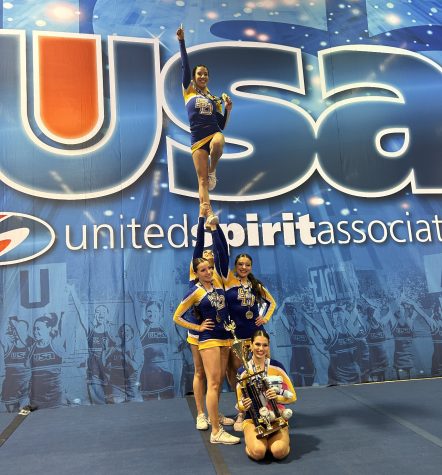 Although their main routine didn't go the way they hoped, five athletes on the team still had another routine to do that night in the Group Stunt Intermediate division. 
"I went into warm-ups feeling confident as this group stunt performance was for something bigger than me. Because of my performance in the main routine, I wanted to do this for the seniors and those who thought I couldn't," said Junior, Aubrey Hays.The five of them had something to prove with this routine, and they were ready to do their job as they had been the whole season.
 In the Group Stunt division there were 34 teams and the top eight made it to finals, and San Dimas was in first place. Although their finals performance wasn't as good as their prelims performance, their difficulty was higher than the other teams so they were able to finish in first place for the first time in San Dimas Cheer history. After that win, the team felt confident again and was ready to compete in the Sideline Situational division. 
In their final routine, Sideline Situational, it is supposed to be as if they are actually cheering at a football game and they are given a situation that either signals an offense or defense cheer and they have to know which one to call. This was a new division for San Dimas Cheer so they knew they had nothing to lose and all they needed to do was have good energy and cleanly execute their routine. They did exactly what they needed to do and they were able to claim the national title for that division. 
"Overall nationals taught me so many lessons and the value of being on a team, while also creating this amazing feeling of making San Dimas Cheer history by winning in the Group Stunt and Sideline division," Hays said. The wins in those divisions had never been done before at SDHS, so the team played a part in the legacy that Coach Keyauna had made over the past ten years. 
Congratulations to the SDHS Cheer Team for making history, and good luck as they begin their STUNT season.