Prostart – A Culinary + Management Competition
March 31, 2023
San Dimas won first place in management and third in culinary after months of practice was put to the test. The team worked hard at perfecting management proposals and curating the best culinary menu. On March 7th and 8th, at the Long Beach Convention Center our SDHS Saints competed with other culinary students across Southern California.
The management category was tested by having the team create a restaurant, a floor plan, and a written proposal. Each team was given about 10 minutes to propose the idea and 5 to answer questions from a panel of judges who act as investors. The San Dimas team consisted of five students, Joshua Wong, Willson Chen, Alec Joesph, Cristina Jones, and Gabrial Costa. They proposed the idea of a restaurant called 'Cheat Day' where all your cravings are satisfied, and people aren't judged for indulging.
Each team worked as hard as they could. In the time leading up to the competition, the management team had practiced their proposal as many times as they could, and they prepared to answer any possible questions. The culinary team had practiced as much as possible and prepared what they could as soon as possible.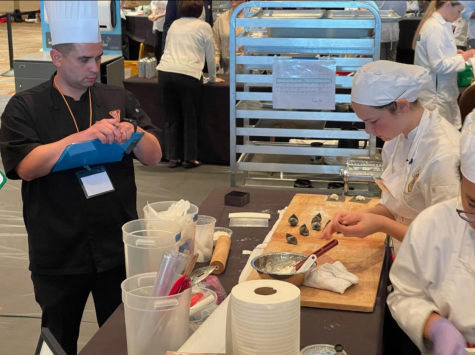 The Culinary team competition was graded on how well the team could create and plate a three-course meal in 60 minutes, using only two butane burners. It may sound strange, but the team was also responsible for finding their dish's cost, with the proportions of ingredients they used.
Two competitions unrelated to culinary and management were the 'Dress Your Dog,' a hotdog dressing competition, and the 'Idaho Baked Potato Competition', a baked potato dressing competition. These competitions were also referred to as individual competitions. Each individual from our school ranked within the top ten in this category. Gabriel Costa, who created a Greek salad-inspired hot dog, ranked 3rd.
Congratulations are in order San Dimas High School's Culinary team and Culinary Teacher, Mr. Brandler.