Mike Regan's Legacy at San Dimas High School
San Dimas High School's baseball coach has had himself a great career and plans on doing more.
March 31, 2023
In the 99'-00' school year, Mike Regan decided to join the San Dimas Baseball staff as an Assistant Coach and then two years later he became the Head Coach. Since then, Regan has had over four hundred career wins, ten plus league titles, a CIF Championship in 2009, and a 31-1 season in 2015. He has built a Division IV baseball team to a top-ranked Division I program. That is rarely heard of. He is going into his 23rd year at San Dimas as the Head Coach this year.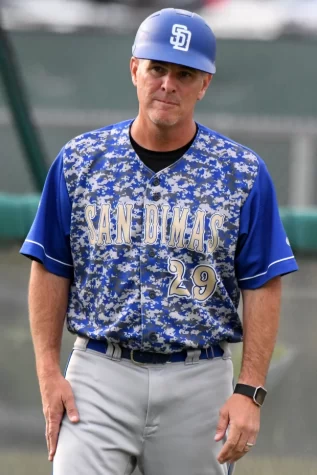 While Mike Regan was an Assistant Coach, the Head Coach had suffered some health issues. The Head Coach had to be put on leave and Mike Regan stepped up as the Interim Head Coach. The Coach had to leave for good, and that is when Regan took the job. When asked how he got the job, Mike Regan said "Nowadays you have to interview for everything. I didn't have to do that. I got a teaching job at San Dimas and they gave me the Head Coaching job". That is how the legacy starts.
His first couple of years were a little rough. Then in the 05-06' year is where his team picked up. That year they lost in the first round, but it was the start of something great. In the following years, they went to the quarter-finals, the second round, and finally won a Division IV CIF Championship in 2009. When asked about that 2009 Championship team, Mike Regan states "That wasn't even our most talented baseball team. It was just full of players playing for the team and not themselves. All they cared about was winning and not their personal stats".
In 2015, the Saints were finally bumped up to Division III and that year was historical. They finished the regular season 28-0. The 11th-ranked team in California and the 65th-ranked team nationally. That team sadly lost in the semi-finals that year. This team was led by the now-MLB pitcher, Peter Lambert. Four years later, Regan helped lead the team to Division II and then in 2022 they moved up to Division 1. Throughout his years at San Dimas, Regan has helped a handful of players get drafted as well as play for D1 college teams. Regan has, and will still do anything for his players. That is the legacy of San Dimas High School's baseball coach, Mike Regan.