Remembering Travis Jones
Friends and family of San Dimas remember Travis Jones
March 30, 2023
On Saturday, February 25, 2023, one of our Class of 2022 Saints tragically passed away. Travis Jones was a friend, student, brother, son, cousin, and in general, an amazing person to be around.
At San Dimas, Travis was a part of the mascot team with his friends. He and his friends joined the mascot team because at first, they thought it would be funny to be the mascot, but also because they loved bringing school spirit to events.  They enjoyed taking turns being Sammy the Saint, their favorite event being the football games. Travis also competed in Cross Country and Track and Field, where he would compete in the discus throw.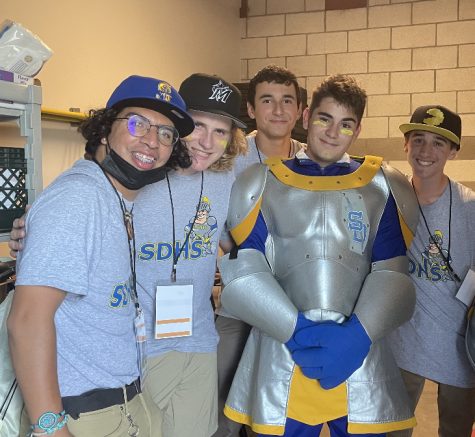 When asked what kind of person Travis was, one of Travis's best friends SDHS 2022 alumni, Julian Ayon described him as "a very kind and hard-working person". Julian goes on to explain that a big goal for Travis was to become a firefighter, and although he knew that he did not need a college degree to become a fireman Travis still went to college full-time, while also working as an EMT when he was not in school.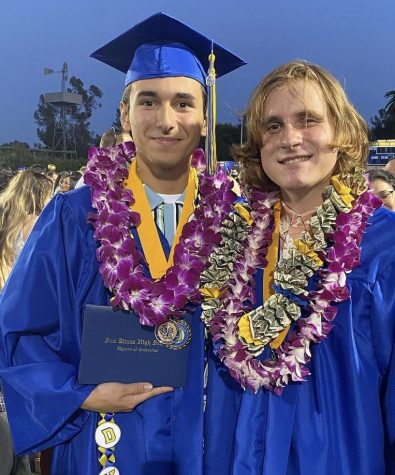 Travis was also described by many as, funny, kind, full-hearted, always committed, easygoing, and caring. Many memories of Travis show his character, one of them being from his cousin Ellie Shand (10), "One time he took my friend and me to a football game at San Dimas, and we split up with them and were looking for them to sit with them. We heard screaming and cheering on the other side and realized it was him and Julian cheering for the other team. Then we left 5 minutes into the game to go to Albertsons. It was so funny, Travis was always so fun to be around, he was always making people smile and laugh".
English teacher Mrs. Dolter had Travis as a junior and senior, she recalls that he was immensely kind to everyone in the classroom and he never left anyone out. Dolter also remembers Jones as humoring her sense of humor, "Whenever I would tell a joke he would be one of the only ones to laugh, I would always see him putting his head down and chuckling to himself". Dolter goes on to touch on the bond between teacher and student and states that losing a student is close to losing a member of your own family.
Travis was a light in so many people's lives, and he will be missed greatly.  San Dimas High School will honor Travis with a plaque placed under the San Dimas memorial tree to keep Travis's memory alive forever.