Saints Boys Volleyball Defeat the Conquistadors
San Dimas takes the 3-0 set W
March 31, 2023
On March 23, our San Dims Boys Volleyball team won against Don Lugo to continue their successful 2023 season. We are very proud of our team, as this is only their second year as a boy's volleyball team on our campus, coached by Ms.Perez, Mr.Kim, and Coach Courtney. San Dimas earned the W against Don Lugo High School with a score of 3-0 in total sets.
Senior Cade Tsonas, number 12, says, "The game wasn't very competitive for us because we feel like there was a very large gap in skill level between them and our team".
Even though the game wasn't very hard for our Saints, it was still great practice, as they were able to prepare for their other more challenging upcoming games. Tsonas explains, "We all had some good plays, which showed in the results of our 3-0 sets win, and it felt very accomplishing".
Tsonas expresses the hard work and countless hours of training and practice the team has been putting in to conquer league. He says, "We are looking to close out league with at least second place. We have two more games left to face: Los Altos and Diamond Ranch later this week."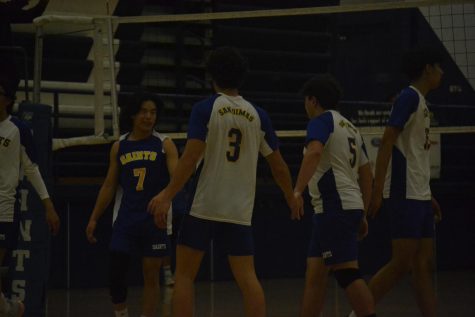 Tsonas tells us "Besides what's left for us and our season, other than that, we are having a pretty strong season, and I am proud of the accomplishments that we have earned for ourselves and the school."
It is very apparent that the preparation and discipline our boys have been working through these past couple of months are worthwhile and beneficial to them, as they have attained many wins this season already and will finish strong.