Color-Guard Has The Greatest Comeback Of The Season
San Dimas Color-Guard places third, making a determined comeback during their prisoners performance.
May 1, 2023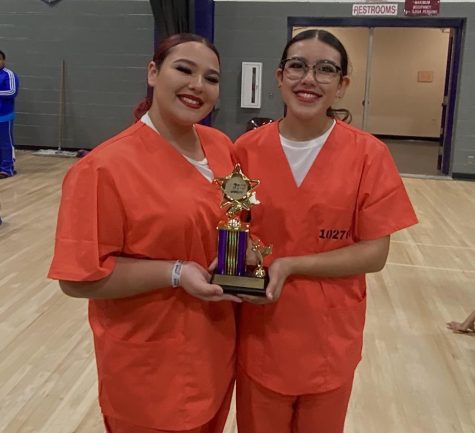 San Dimas Color-Guard performs their show "Let Me Out" at Rancho Cucamonga and received 3rd out of 8 different schools in their division. They dedicate themselves to hard-working practices leading up to this performance, to make up for their bad luck streak of getting last place at every past competition. The guard jumped up 11 points since their last competition; they scored 69.5 points and at their most recent competition they received 77.06 points.
San Dimas Color-Guard had struggled to rebuild their team and create a solid foundation of experienced and seasoned members. When giving a speech to the guard, Coach Lionel Icasiano said, "I am so proud to have been your guys' coach and watching you girls grow and strive so much!"
Despite the struggle the guard really showed off their talents and hard work at their competition on April 15th. The comeback of the season sprouted after a hard winter guard year of having the majority of the team extremely fresh and new to the sport. Only five of the members on the team this winter guard season had past years of experience and a large portion of them only had experience from the marching season prior. With the challenges that the guard faced, they showed their talents on the floor.
Before the Color-Guard began their way to the competition the guard started their rehearsal at 8 in the morning to get in two hours of practice to perfect and go over their performance. The guard puts in 6 hours of practice each week, they have Tuesday and Thursday practices from 6-9. During that time the guard works to perfect their performance appearance and their skills. The determination that the guard shows during the short practice time of Winter Guard Season really paid off at their competition by landing them 3rd place.
As a majority, many of the girls were extremely proud of the scoring and placement that the guard received Saturday, April 15th. Many members described the performance and results as "show-stopping" after constant struggle throughout the season. "I felt great after having such a bad season. After getting last place after last place after last place, it felt good to finally get placed and a trophy to hold in our hands and say 'we did this!'" Sydney Martinez, Color-Guard Caption explains and perfectly puts into words for the other girls.
In preparation for their championship competition this scoring "inspired us to work harder" and helped drive the guard to do their best at their next competition. With the pressure that the guard was facing during this season having  "every single one of our moves being watched" the guard pushed passed the negativity and strived to end the Winter season with a memorable comeback.