What Influencers Don't Tell You About Coachella
The time comes around again to see influencers attend lavishly all inclusive brand deal trips as regular people camp out in their cars and shower communally all for the infamous Coachella weekend.
May 1, 2023
Festival season is upon us and here in Southern California, Coachella, is by far the most heavily anticipated of the year. The allure and attraction lies in the endless photo opportunities, the combination of both mainstream and niche artist headliners, and the fact that you can quite literally wear anything. The festival groupees are divided between the celebrity/influencer crowd (aka those with all inclusive/ VIP wristbands and most importantly access to AC) and the GA campers and commuters. For those not attending Coachella the festival is always seen through the guise of Instagram filters and live streamed Youtube videos but as a first time attendee there was more to uncover then at first glance.
The festival is hosted at Empire Polo which is about 642 acres of land in Indio, CA with 8 stages. Needless to say, walking is a crucial part of the enjoyment if you want to see the headlining artists. Within the festival are plenty of pop-up restaurants and bars brought in from LA and NY to bring out a plethora of different highly rated food options from burgers, sushi, pizza, and even oysters. The blistering heat in the desert and lack of shade make for the perfect recipe of desperation and willingness to pay minimum 20 dollars for a food item. 
The 2023 headliners were packed with global artists from Bad Bunny, Blackpink, and initially Frank Ocean. The controversy first arose after Frank's weekend 1 performance where he delayed the set by an hour because of rumored last minute set changes. His set only lasted 30 minutes and later his publicity team issued a statement saying that he would be dropping out of weekend two due to a sprained ankle. Fans were devastated at his last minute decision to drop out of the festival because he has not performed live since 2019. Coachella then replaced the third day headliner with Skrillex, Blink 182, Four Tet, and Fred Again.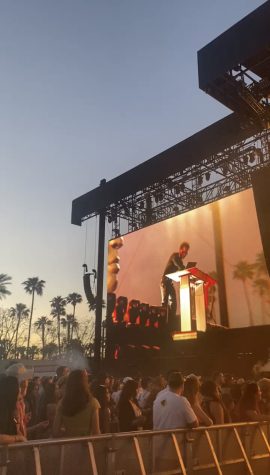 Coachella has made a huge name for itself within the past couple of years due to the rise of social media exposure and opportunities for brands to promote through sponsorships and brand inclusive trips with influencers. Its transformation from a predominantly indie crowd to the mainstream and alternative music crowd is evident and the turn began around 2017 with peak Youtube culture. Youtubers from Emma Chamberlain to James Charles reached over a million subscribers and gained the influencer titles to work with brands to promote products in turn for all inclusive paid brand trips. Today this culture is more heavily prevalent with the increased usage of platforms like Tiktok that have boosted more influencers.
It seems as though the experiences of VIP and GA/ campers are almost two completely different festivals, while both have the opportunity to enjoy the music there are certain obstacles that are almost never brought to light by influencers. The challenge of getting to the Empire Polo venue for commuters is evident in the bumper to bumper traffic that can total up to 2 hours for a 5 mile ride. Other festival goers may choose to shuttle to the venue lessening their drive time for the ride there but the lines for shuttle returning back to the hotel after the last headliner can take up to three hours because of the heavy influx of people and limitation of shuttles.
For music enthusiasts who plan on returning to Coachella, preparation is key to enjoying the music and avoiding over heat exhaustion, strenuous traffic, and just overall exhaustion during this three day festival. Prepare comfortable walking shoes or bring a change of shoes if they interfere with water bottles, try to eat before to save money, and most importantly stay hydrated and avoid the heat as much as possible.