The Insights of a Local Youth Pastor
Community spotlight on Pastor Shannon Hardy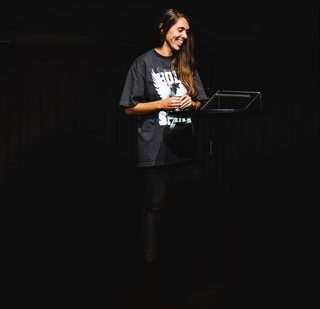 Shannon Hardy plays a big role at ONE & ALL Church located just down the street from  San Dimas High School, which many Saints attend, whether it is being a role model or just being a person that a student can talk to. From the church's ONE NIGHT events to her community group, San Dimas and other high school students all can reach out to Hardy. 
Her community group consists of a few girls that attend San Dimas, and they all talk about what is heavy on them. Hardy is amazing when it comes to just being there and listening to students. From their happiest moments and achievements to their lowest times, Hardy connects with and supports all of them. She has become a huge influence in those girls' lives and has impacted them in the best way possible. She shows nothing but love and encouragement to the girls.
Hardy became a youth pastor at ONE & ALL Church in January 2022 and has been loving her job ever since. She originally was brought on staff at the church in 2018 as the videographer, since she was a film major in college as well as a coach for soccer high school, while volunteering at Azusa Pacific University. Though Hardy did not have a plan to be a pastor, she started to speak online for youth during COVID, which ultimately opened doors for many speaking opportunities within the church. After a meeting with the lead youth pastor at the church, Hardy had been given the opportunity to join the youth team. 
So now, her role at the church consists of  content creation, speaking when needed, and pastoring students/leaders. " I was shocked because I had never even thought about being a pastor, but honestly looking back at my life until then, I could see that I had been prepared to walk into it," she explains. With all her youth and speaking experience beforehand, it gave Hardy the experience she needed in order to become a youth pastor. She had already loved to create content but within those online COVID moments, she had realized that she had grown a heart for walking alongside people in their struggles and public speaking. 
"Even though I was insecure and intimidated by the thought of being in a position of leadership, it seemed like the next thing for me to step into in order for me to continually become who I was made to be," she explains. One of her main struggles as a youth pastor for her is learning how to lead youth from a healthy and secure place. As before, she did not have to reach those emotional states with her job, so adjusting to try to find those rhythms are most helpful to her in order to be the best leader she could possibly be.
Though she is a pastor, Hardy is more on the introverted side and it is draining for her to be always having to deal with different people. "People have problems, people have opinions, so it's important to be secure in who you are, so that you don't become overwhelmed by what you simply cannot control," she states. 
A struggle she faces as a youth pastor would be having to deal with a lot of people emotionally, as the younger generation deals with many heavy and overwhelming situations such as family or school, Hardy helps in the best way she can and tries to be a safe haven for all youth. She explains, "It's a joy to love the students in the middle of their storms, as well as just cheer them on in life in general." She gives them a space to just be their authentic selves and shows them genuine interest with what they have to discuss. She understands that feeling lonely or unloved may step in the way of helping a student become who they were created to be, so Hardy always helps any student that may feel that way and helps them just be seen and loved, since it may be hard to just open up and find a space to pour one's heart out. She wants the students to just be able to talk about their struggles, interests, and what they hope for because she knew from her personal story, without that space can come a lot of darkness. 
Being a youth pastor, she not only has spread wisdom and knowledge to students, but she has also learned many important lessons from them. She learns so much from their passion, faith, and their character. "As devastating as it is, pain has no age limit, and these kids have gone through, and are going through, some really hard things. I glean so much encouragement from their stories as they demonstrate perseverance, love, and hope," she explains. Hardy shares her favorite quote from the bible, being verse 1 Timothy 4:12, "Don't let anyone look down on you because you are young, but set an example for the believers in speech, in conduct, in love, in faith and in purity." That is a verse that she shares with the youth in order to encourage them and hopefully help them realize that just because she is the "adult", doesn't mean that she is the only one that has something to offer. 
Hardy is able to connect with youth at church through numerous ways. " Whether it's our monthly ONE NIGHT's where 400-500 students gather together on one of our campuses, Summer Camp season where we get to stay a week at a college dorm, or whether I'm just hanging with my small group of high school girls, I really do have a ton of fun with our O&A Youth community," she says. Her job brings her a lot of joy and although it can be tough with some aspects, she loves it and it is an honor for her to be in this amazing position. Hardy states, "it's also beautiful to watch students grow into who they were created to be, to watch them step into their giftings, and watch them persevere/overcome hard things".  Though it is not an obvious way to reach the youth, Hardy is able to also connect with them through photo and media on the @oneandallyouth Instagram page. It gives students insight to what happens during the many youth events and gives a way for students to share what is happening within their youth community. "I guess at its core, photography becomes a bridge that hopefully makes students want to come join in and be a part of the O&A Youth community," Hardy states. 
Her church community means a lot to her because without them, she would not be who she is today. Through her hard moments and as well as incredibly joyful moments, her community has seen and supported her though all of it as well as shown nothing but love. Her community at church always encourages her and creates spaces for her to exercise her spiritual gifts and grow more into them. "They really just help me become more of who I was created to be," she states.