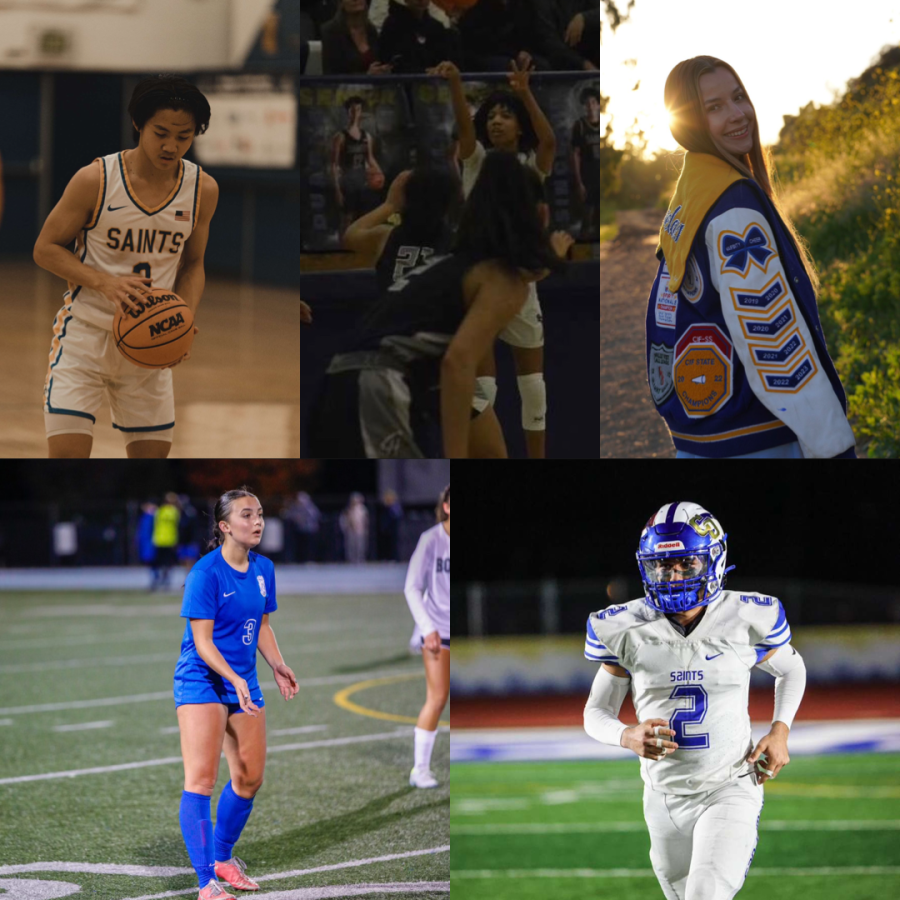 San Dimas High School's Valle Vista 5
May 1, 2023
On Monday, April 17, 2023, five senior student-athletes from San Dimas High School were honored at Mountain Meadows. These athletes were honored alongside the other participating schools in the Valle Vista League for being some of the best student-athletes in the league. 
To give a little background, San Dimas High School competes in the Valle Vista League. This league includes San Dimas and Northview, West Covina, Covina, Diamond Ranch, and Charter Oak. Through the league, five individuals from each school, varying from different sports, were selected as the Valle Vista 5 representatives from their high school. 
In a letter to the honorees, the criteria were stated as "any of the following: Individual Accomplishment, Overcoming Adversity, 3.3 or Higher, Participating in School Activities & Extra-Curricular Activities, Accountability in Sportsmanship, and Outstanding Citizenship." The Saints chosen within this criteria held a lot of these traits, and are valued both by their teams and San Dimas. 
The five Saints chosen to represent San Dimas High were Aaron Park, Haliey Ornelas, Allison McGill, Troy Mejia, and Ryenn Zerbel. These athletes were selected due to their participation in athletics in the following programs; Boy's Basketball, Girl's Basketball, Stunt, Football, and Girl's Soccer. 
Here is a profile for each of our Valle Vista 5: 
Aaron Park was a star for the boy's basketball team during his four years as a Saint. Even though awards aren't always special to him, this award meant a little more to Park. He felt "honored and grateful" to be picked among the other athletes at San Dimas. He would like to thank Coach Ketterling for teaching him "to be a person of integrity and character." He cherishes his time playing under Coach Kett. Aaron Park, known as "AP," led his team by being a captain and point guard for the team. He describes his role on the team as a creator, making opportunities for himself and others. Park has many leadership qualities that he has been recognized for through the award. 
Hailey Ornelas participated in the Stunt and Spirit Line program all four years and captained her junior and senior years. This award meant a lot to Ornelas; she describes this award as shining a spotlight on the amount of "dedication and resilience it takes to be a student-athlete." Acknowledging the large pool of athletes, she is honored to be picked because of her leadership qualities, as well as her impact on her team. She would like to thank her coaches, Keyauna King and Bryanna Cota because "she would not be the same athlete or person she is today." She describes her coaches as "second moms" and thanks Stunt and Cheer for the endless life lessons taught throughout the years. 
Allison McGill played for the varsity girl's basketball team all four years. McGill is grateful to receive this award, among four other athletes. She described the feeling as an "honor to be nominated and chosen." She mentions how nice it feels to be recognized off the court for all the hard work. She would like to thank her coaches for always supporting her, as well as "believing in her and pushing her to be her best." McGill mentions all her coaches, each of them being "great coaches and blessings." Playing both point guard and shooting guard, her presence was known on the court, and needed, as she started 99 games in her career as a Lady Saint.

Troy Mejia was involved in the football program during his four years as a Saint. As a senior, Mejia captained the football team and was their strong safety. After receiving this award, Mejia felt a sense of accomplishment; he described it as "meaning the world to him," because it showed how much work ethic is seen. After being doubted, this award felt "amazing" to Mejia. Because he is an honoree from the football program, he would like to recognize his coaches. His coaches "taught him about brotherhood and to have confidence in himself."
Ryenn Zerbel was involved in the girl's soccer program for three years. As a senior and junior, she captained the girl's soccer team playing both defensive and offensive positions. When receiving this award, Zerbel felt a sense of pride; "being recognized by a league is a huge deal, let alone being picked among the large number of senior athletes at San Dimas." As a girl's soccer player, she mentions her coaches and thanks them for the endless amount of support, as well as the endless confidence they have in her as a player. 
After dinner was served, athletes were introduced by assistant principal Mr. Nance, and Athletic Director, Coach Holeman. The Athletes received a trophy as a recognition for all their hard work in and out of the classroom. So proud of our Valle Vista 5, and cannot wait to see what they accomplish next.