SD Rocks, Not The Concert You Would Expect
May 31, 2023
Every year our Royal Corps set up and perform SD Rocks. SD Rocks is a rock music show hosted and led by our band directors Mr. Sandt and Mr.Beckford. The performers include anybody in the community from teachers, to parents, to strangers who know how to play an instrument. At SD Rocks you will see fun rock concert-type performances instead of the band's regular orchestra concerts. SD Rocks are made to let the band have fun playing for a crowd for probably the last time of the year with music everybody can rock out to.
This year's SD rocks theme was "Guardians of the Galaxy," and the show included famous 70s hits such as Gimme Gimme, Stayin Alive and September. All the performers dressed in 70s-themed outfits along with the music made it seem like a rewind in time for everyone watching. Every year when opening SD Rocks, band Director Daniel Sandt says "This is nothing like our normal concerts, Don't feel like you need to stay seated it would make us happy if you get up and groove."
Contrary to the bands' normal concerts, SD Rcoks is more fun and indulging to the audience and performers. Before both the morning show and evening show, part of SD rocks is the outdoor bands. Bands created by stud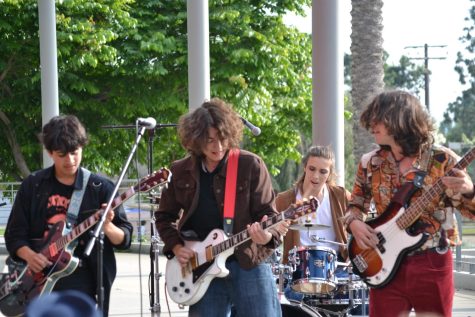 ents, teachers, and parents perform outside before each show starts in order to get people in the mood of enjoyment before the actual concert. This year's outdoor student bands included Junus 6, Grape the World, and Sandt's band.
Along with the band our Drama students along with Mrs. Kocalis, and Mr. Perez performed outside before the show as well. The outdoor bands are a great way for student bands who are not directed by Sandt and Beckford, to show their talent and work, and most importantly get the audience hyped.
For the co-band directors Daniel Sandt and Lance Beckford and Choir director Mr. Pugh along with drama director Kelly Kocalis, SD Rocks is a show they put a lot of work into and of course, enjoy it the most. Along with dressing up in their crazy 70s outfits, Mr. Sandt and Mr. Beckford put all their energy into singing, dancing, and playing music with the most fun energy for the audience. When it comes to SD Rocks you definitely see the more fun side of the directors as they're up onstage doing silly dances and jamming out like nobody is watching, which is what makes SD Rocks so important. As this is the bands' last concert of the year together, traditionally SD Rocks is made to end the year with a bang.
Keep in mind that only at SD Rocks would you have seen physics teacher, Mr. Sandt dressed up as Elvis Presley doing the helicopter on a stage in front of hundreds of parents.