History in the Making
February 7, 2019
On January 12, 2019, our San Dimas cheer team took home the first-ever CIF-SS championship title in the 2-A division with their stunning yet, bold performance.
This was an astonishing moment for everyone who has dedicated countless hours to the cheer team.
For many years cheer has been deemed as "not a real sport", but our team knows this isn't true. There are lots of physical demands involved. They have put lots of work into their stunts, complicated routines, and their morning training.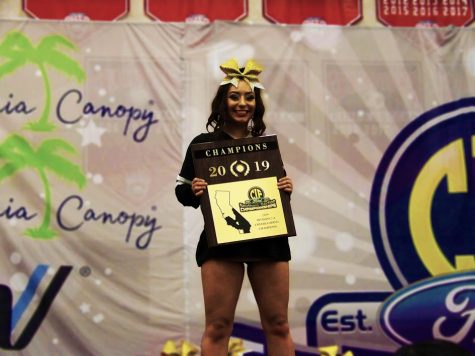 San Dimas High School's Assistant Principal, Rita Kear knows this first hand she has been there to see their extraordinary growth since the season began. She happily stated, "They hit their routine like I've never seen before." She also mentioned this win will help teens who are interested in joining a competitive cheer squad look towards us in the near future.
This move towards making cheer CIF official is definitely something special. The sport is finally getting the recognition it deserves which allows them to have equal opportunities just like any other sport.
As for the San Dimas High School Cheer team. They continually get better and better with each competition and always make sure to get the job done.