"Death Race for Love" Races to the Top
American Rapper Juice WRLD reaches number one across all charts with his latest album
April 19, 2019
Jarad Higgins, more famously known as Juice WRLD, has been known as an ingenious upcoming artist in the genre of rap music, in particular, emo rap. His unique style of expressing his emotions about love and heartbreak is one not too common amongst rap these days. However, in doing so is where he derives his success from, as so many people are able to relate to his lyrics and the feelings he expresses.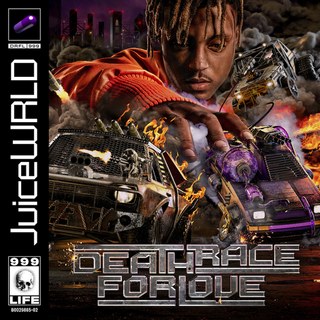 "Everyone's had their heart broken, but everyone's too scared to say it and talk about it. If you a real one, you're not afraid to show your emotions. You have to have a balance between strength and emotion." says Juice in an interview with The Breakfast Club.
Juice WRLD has already proven to be an amazing lyricist, as he has already had one of his songs, "Lucid Dreams" reach the #1 spot on Billboard, but with the release of his latest album, Death Race For Love, he proves he isn't a one-hit wonder. Throughout the album, he portrays his feelings of endless infatuation and sudden self-hatred across its 22 songs.
Within the first week of its much-anticipated release, Death Race For Love had sold over 165,000 copies, 176 million streams, and a #1 best selling album on Billboard. All this is insanely impressive, as according to Juice WRLD, "I recorded the album in four days."
The rapper had opened up that he had a lot of self-consciousness and doubt coming into making the album, but he soon realized that he had poured everything into it and that his fans were counting on him. Of the whole album, he says that every song except maybe 2 or 3 were all freestyles, which truly highlights his incredible ability to come up with these song concepts on the fly, while still possessing emotion and subliminal messages.
"I've never seen him actually write," says Hit-Boy, famous producer for songs by Jay-Z, Drake, and Kanye West. "Certain people freestyle for a while and then run out of things to say. I feel like he's one of the first people I've worked with personally who never runs out." As if the album wasn't already such an impressive feat, it covers a wide variety of genres all throughout it, such as "Hear Me Calling" which is geared towards modern dance hits, guitar-heavy west coast rap with "Make Believe", more softer and soothing guitar with "Who Shot Cupid?" and an homage to his humble beginnings with "Syphilis", making references to stereotypical hardcore SoundCloud rap. "I have songs for the trap house, songs for the sock hop, songs for the Caribbeans, songs for raves, songs for slow dancing," comments Juice WRLD about the album.
Juice WRLD has not only made a name for himself but the emo rap genre as well, taking off it's "underground only" label. Something that felt so natural to him as to just expressing his feelings, he has become an outlet for many people to relate to and sympathize with. And at 20 years old, this is only the beginning for Jarad Higgins, as he has bright, lovesick and heartbroken future ahead of him.