Goodman Twins Ride in Style
Hang on for a minute...we're trying to find some more stories you might like.
Head on over to the SDHS student parking lot and you'll see some pretty sweet rides, but a few stand out a little more.
Jacob and Joshua Goodman are twin brothers who are juniors at San Dimas High School. Along with their strikingly similar appearance they share one thing in common, their love for cars. Between the two of them, they own three cars. These include a 1957 Chevrolet 150, 1945 Willys Jeep, and a 1954 Volkswagen Beetle.
"ME and my brother pretty much do all the work on our own," said Jacob, "We try our best to do what we can on the cars. With the Beetle, the only thing we didn't do was the paint." All their work and love for their cars are beautifully presented when you see them.
Although everybody seems to love the cars, the brothers have to be careful. "The office was unsure about us bringing the Jeep to school, you know, for safety," said Joshua. "We went home and took some things off the Jeep and made some modifications to be able to bring it to school", he said.
One of the coolest features of their cars is the turn signals on their beetle. When the turn signals are on, a little peg with an orange light that swings out of the upper door panel. Jacob explains that this only comes in the European model of the car. "This is a euro-spec. You can only get these signals in the European model of the car." This just adds more the coolness of the car.
The brothers don't plan on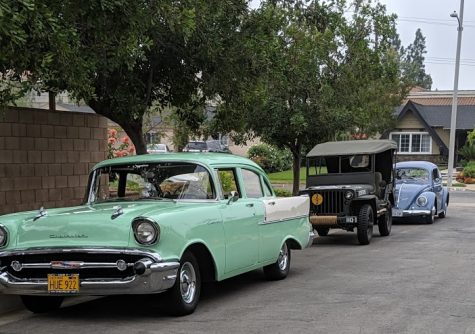 car or an old tank, the Goodman brothers are always up to something a little different with their cars.
n stopping there. They're saving up to buy a tank! Joshua explains, "There are some old road-legal tanks you can get online pretty cheap. The only drawback is that most of them are in Europe and the shipping could end up costing more than the tank itself."
Whether it be a cool vintage