The New Normal?
Saint's perspectives on school safety
November 6, 2019
Depression, anxiety, and school safety policies are rapidly skyrocketing as school shootings and bullying have become "the new normal". Schools are sometimes being associated with violence and fear. San Dimas High School is home to more than a thousand Saints and the question has come up in recent times of whether or not the students of San Dimas High School feel safe as well as what is being done to make them feel safer on campus.
Asking the students individually helped record more accurate measures of how Saints truly feel about the matter. However, it was difficult to see the different specific points of view and concerns that many students may have. Ultimately, the survey showed that many San Dimas students do in fact feel safe on campus. However, there was a slightly concerning number of students who do not.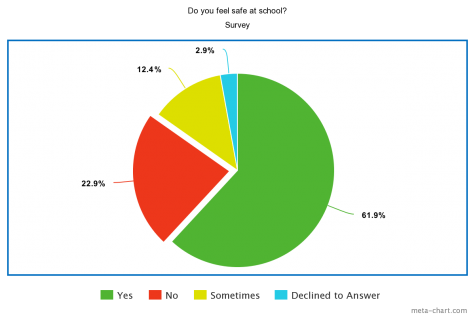 In the first half of  2019, 22  school shootings were reported by CNN. It's also important to take note of the several threats that have been made specifically towards San Dimas High School over the last few years. But the question then becomes whether or not these events truly shape the environment and atmosphere of the survey as well as the students' opinions.
Junior Isabella Rubio said, "I don't feel safe at school sometimes. Our school campus is so open and large that it feels like anyone can get onto our campus."
Unfortunately, San Dimas High School is an open campus and people sometimes mill around the school or near the fields. Another problem Rubio mentioned was that the structure of the school buildings may make it hard to exit if there was ever to be an emergency. Both of these problems are pretty clear, however, it is fortunate that the school has put protocols into place for any and all instances.
Ultimately, the rules in place and the staff at San Dimas do everything they can to ensure the students' safety in spite of recent events. Although there may be students that worry about their school's safety, ensuring that our students are at ease in their learning environment and can truly feel safe is a top priority for everyone at San Dimas.