Fighting for Gold at Freak Show
SDHS Boys Wrestling travel to Las Vegas to compete in one of the biggest tournaments in the U.S
November 6, 2019
When people think of October, they immediately think of Halloween. However, for wrestlers across the United States, Freak Show is on all of their minds. Freak Show is one of the biggest wrestling tournaments in the country. Where wrestlers from Minnesota all the way to Hawaii come to compete in Las Vegas, Nevada and claim the ultimate victory of placing at Freak Show. This was the goal for a select few wrestlers from the SDHS Boys Wrestling Team, and they were out to prove their worth.
The wrestlers who participated were James Reinaga, Adrian Flores, Antonio Zavala, Jared Higgins, Seth Krieger, Nick Wong, and Chris Tellez. The trip started with an intense practice Thursday night, where wrestlers who weren't at their weight requirement, just yet, would have to lose it through water weight.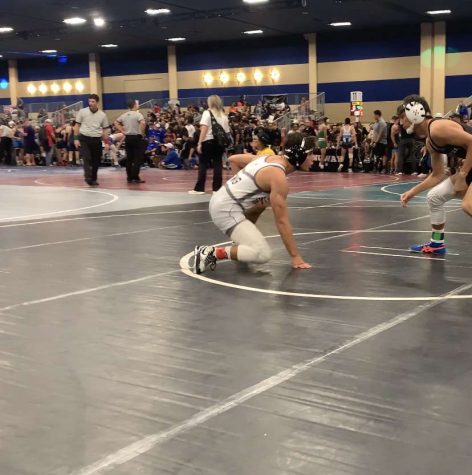 Friday early morning, accompanied by coach Efrain Gonzalez, they set out on the 5-hour drive to Vegas, where there was a massive crowd of wrestlers outside of the Westgate Hotel, waiting to weigh in. The period of time from Thursday night to Friday afternoon proved to be very excruciating for the athletes. During this time, they cannot consume little to any food and water, as they have to make sure they're on weight. A direct quote, simple yet powerful from Wong himself states, "I'm so hungry, I wanna die."
All was well, as the wrestlers packed plenty of snacks for post-weigh-in procedures. To end the night, the boys set out to find a good restaurant for dinner, and then a good night's rest to prepare for the next day's brutal competition.
The Westgate convention hall was filled with wrestlers, coaches, and parents. The energy was intense, as all these athletes have the same intention of getting the gold. After a quick 30 minute warm-up, the competition started promptly at 1:30, and just like that, the wrestlers took to their mats. Matches were being held back to back amongst 40+ mats that were present. Matches were four and a half minutes long, three one and half minute periods, but a quick pin could end the match sooner. By the end of the first day, Reinaga, Flores, Wong, and Krieger had advanced to the second day, whereas Higgins, Tellez, and Zavala fell to a tough record of 1-2, but they did not go out without a fight. "I'm glad I didn't barbeque (not winning a match) and that I was able to win one," says Tellez. "It's one of the toughest tournaments I've ever been to, and now it's time to reflect, learn and improve from this."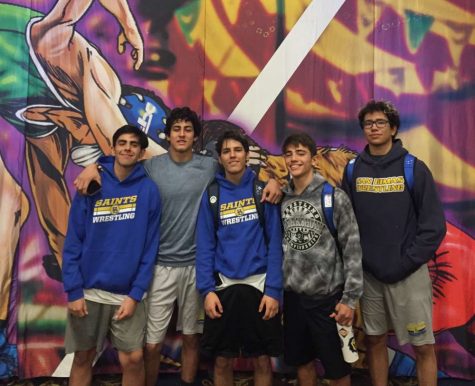 Sunday's proceedings started the same. The competition had grown even stiffer, as the more experienced wrestlers had claimed their spots above others. Finally, as the dust settled, Freak Show had come to a close, and the boys from San Dimas were still standing. The remaining wrestler's records were: Reinaga 2-2, Flores 2-2, Wong 2-2, and Krieger 1-2. The wrestlers were a little discouraged, but could not be happier with their improvement and effort. In a post-tournament huddle to end off their journey, coach Gonzalez recited, "Our goal is not to win, it's to compete. We want to be able to battle with these guys, and we did that. Winning is just an added bonus, but the important thing is that we fought hard."