The Show That's There For You
Celebrating the 25th anniversary of legendary show
November 6, 2019
F.R.I.E.N.D.S is quite an iconic show. The beloved show is currently celebrating its 25th anniversary of airing this year. After 25 years of existence, it has been seen by many to be the definitive sitcom of our era and is one of the most beloved shows. 
Although only a tv show, the fan base of the show is huge and extremely strong. The beloved show ran for ten seasons and first aired in September of 1994. Many people have felt impacted by the show and its themes and messages and have been showering the cast and production with love this year all over social media and on the show's official Instagram account, the cast of many shows can be seen sitting on the iconic couch. Even popular shows in this generation casts can be seen such as Riverdale and The Flash paying homage to the legendary show.
Even foreign countries are celebrating the show like in the United Arab Emirates, the classic F.R.I.E.N.D.S theme song was played along with a light show. This was all displayed on the Burj Khalifa, the tallest building in the world. The spectacle was observed by plenty of fans all singing along with the theme song and enjoying the display of lights.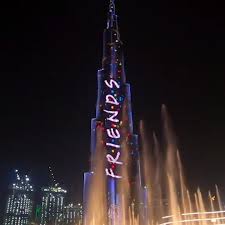 But perhaps the biggest celebration that fans enjoyed the most happened in October. For a limited time, a select few episodes were screened in movie theaters across the country. This was huge for fans as people rushed to relieve the classic episodes on the big screen. Not only this but there is set to be screenings of Thanksgiving episodes throughout the month of November. 
As the year is coming to an end, F.R.I.E.N.D.S has enjoyed celebrating its legacy all year and clearly has been doing it to the excitement of fans. The show is something quite special to people and even to this day, people will always remember the laughs that it brought to the world.