SDHS Royal Corps Prepares For Semifinals
Marching Saints Put On A Show in Mayfair
November 22, 2019
The San Dimas HS Royal Corps heads to the town of Bellflower for the final "regular season performance" of the 2019 year. Having great motivation and support throughout the whole year, this band goes onto the football field and presents a heist with a clear story line and great musicality and choreography. Or so they thought; the judges had other thoughts in mind, giving the Royal Corps a score of 76 and a majority of the band was greatly disappointment.
What had gone through most of the band's mind were thoughts that included how the judges were very tough or there was possibly an error in the scoring, but those were all false. Senior Christian Varela is one who was not apart of the majority, actually believing that the point total was correct for the Saints.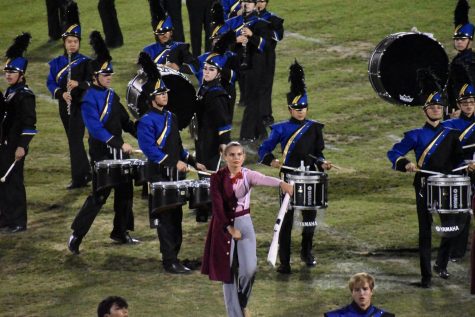 "
"We deserved what we got. So far, we've been getting a consistent visual and music effect score, but what has been wavering around the place is music and visual performance. It's a matter of paying attention when we're on the field and practicing, and having a clear mindset.""
— Senior Christian Varela
Varela explains how the point total wasn't what everyone else had expected because of practice not being the best it could've been. However, Senior Jason Byer sees this performance as more growth and improvement for his section.
"Battery had met the standards of a solid run. In fact, I'd say that it was one of our most solid runs that we took was this past Saturday." Ignoring the point totals, Byer believed that this run was definitely a step in the right direction as the Battery and rest of the band head out for Semifinals as the night in Mayfair has come to an end.
This last attempt before semifinals wasn't what the SDHS Royal Corps was expecting, especially with such heavy, difficult competition. However, the preperation for Semis will require the focus in practice like Varela had said. It's just a matter of moving on from this Mayfair field show and putting out a stellar show in one week.