The Start of Another Competitive Year
Winter Drumline Rolls into Season
December 20, 2019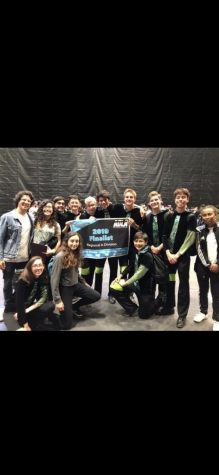 As the end of marching season has come to a close, many doors open to respected musicians. For the drummers and front ensemble, it's time for Winter Drumline season. This is the time of the year for Battery and Pit to truly show what skills they have as they take on the challenges of being the main feature all the time.

Expectations are held very high for this year's Drumline due to their high placement and performance last year. Sophomore Troy Cross goes more in depth on this;

"

"We expect ourselves to be pretty high based on last year, and we want to make sure that every competition, we work as hard as we can and push ourselves as far as we can so we can get to that high spot that we want to be at.""

— Snare Drum Player Troy Cross

.

Cross briefly states that Drumline has lots of expectations, but he also dives into how everyone needs to push themselves to achieve these high expectations through hard work and a good show.

Having a good Drumline season goes back to having a qualified staff that writes a stellar show. The performers plainly put their best efforts on the field of play, but the show is what ultimately makes a successful season. Senior Alissa Perez exemplifies her feelings towards the upcoming season and how the show will turn out;

"I feel very confident about this year's show because it was written by one of our instructors who we all admire. The theme of the show is really cool and we all can't wait to piece it together fro all of us to see." The confidence that Perez talks about is clear and goes back to the high expectations that everyone expects them to have with a good show. The show having an amazing and unique theme to it does add onto how well this year is going to be and contributes to the growing confidence.

Both Pit and Battery plan on holding themselves very accountable with how much time and effort that they put into the show and every performance. With two talented technicians, Jeff Butler and Amanda Frausto leading the way, the students have the support to make this year's Drumline the best and better than last year. Strengths will be improved, bonds will grow, and a large family made all in one Drumline season.