Let´s Get This Bread!
Mr. Feola's 2nd Period Class' Results from the Thanksgiving Food Drive
December 18, 2019
Recently, San Dimas High School held their annual Thanksgiving Food Drive. This event was for a great cause as the food gets donated and in addition to that, the class with the most donations received a Chic-Fil-A party this year. This year's food drive experienced a surprise winner that came out of left field.
Mr. Feola's second period class came out of nowhere, accumilating 72,000 points, quite literally overnight. The key to this huge donation was bread. The class in total brought in 48 packages of bread to donate. When asked about how this donation came to be, Junior Jack Raygoza stated, "Honestly it happened out of nowhere. It started when Mr. Feola offered to bring in the same amount of bread as we brought in. He even reminded us over google classroom to bring the bread." The class banded together and did something great. Raygoza mentioned that, "I'm happy we decided to follow through with this and donate to the cause."
But of course none of this would've been possible without the architect of it all, Mr. Feola. When asked about his inspiration for his offer to match the students donations Mr. Feola said, "I've never won one and I figured the kids were excited about it so they would actually bring it. That´s how I decided I would go and match them." He even recounted that, "I got some funny looks at the grocery store when I had all that bread in my basket."
Initially the class was going to bring in 18 packages, in which case Mr. Feola would match in turn. But the next day, Raygoza said, "We brought in way more than 18." Mr. Feola was quite shocked and had this to say, "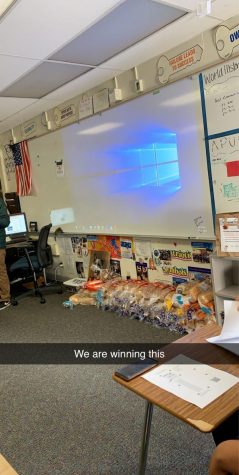 I was proud. You know at the end of the day we got the Chic-Fil-A party, but the kids also they brought a lot of bread for the needy, so that was great."
In the end of the day due to bringing in the most points, Mr. Feola's class won the Chic-Fil-A party. But a greater success came that day because a class of AP US history students brought in a large amount of food for those in need.
"
I was proud. You know at the end of the day we got the Chic-Fil-A party, but at the end of the day the kids also brought a lot of bread for the needy, so that was great"
— Mr. Feola