Another Sudden Retirement in the NFL!
All Pro Linebacker Luke Kuechly Hangs Up Cleats
January 28, 2020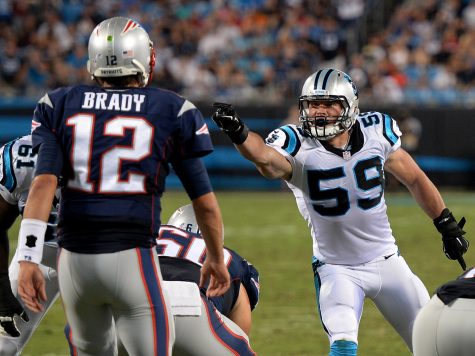 As the 2019 NFL Regular Season ends, players will announce their retirement to move on with their lives. However there are always some shocking ones, and another one has come. On Jan. 14th, 2020, Carolina Panthers linebacker Luke Kuechly has stated his retirement from the NFL. The middle of the Panthers defense will be empty as this legendary player walks away from the game.

At only 28 years old, he finished his career with 1092 tackles, 18 interceptions, seven forced fumbles, and one touchdown. His accolades include 2012 Defensive Rookie of the Year, 2013 Defensive Player of the Year, seven Pro Bowl appearances, five first team All-Pros, along with a trip to the Super Bowl. Once he retired, many analysts and fans had many questions for his purpose, WHY?! All sorts of wonders and moments of confusion had filled the air of the sports world. There is no definite reason as to why he decided to end his Hall of Fame career short.

Kuechly had put out a retirement video that had explained the best reason as to why he retired, and the best explanation is that it's the time to move on from football. Kuechly goes on to tell his story of loving the game, and how difficult it was for him to make this choice.

"

"It makes me sad, because I love playing this game, I've played it since I was a little kid, and it's my favorite thing in the world to do. The memories I have in this place or on the field with these guys, they'll never go away…it's so hard to do, to move on in a different direction.""

— Luke Kuechly

.

For him having to leave behind his passion and all the great times that he's made with his team, it's going to be a very tough challenge for him to simply leave it all behind.

The secret to why he actually retired could be found within the many injuries he had sustained throughout his eight-year career. SportingNews writer Vinnie Iyer brings up his concussion history and other injuries that he's battled through.

Iyer writes, "…he had right shoulder surgery following the 2017 season. He also tore his labrum in Week 17 of the 2015 season. He also had three known concussions from 2015 through 2017.". These injuries could've very well been the primary factor in his retirement, but Kuechly never talks about these in his retirement video.

With injuries and the thought of not being able to perform at an elite level, Kuechly ultimately decides to bring his star-studded career to a close. It's sad to see someone of his caliber leave the NFL so soon, especially when this game is his number one passion. Kuechly's short legacy will always be remembered among sports fans and analysts around the country.