Colorguard Classifications!
A Killer Wave Performance By Yours Truly
February 21, 2020
The SDHS Color guard as well as the LHMS team conjoin to become one and stepped into the winter guard season of the new year 2020. What's in store within the guard is not only "good vibrations" as a rifle drops to silence the room, but a beach themed show by the beach boys to surface waves and the amount of progress within the guard. They push forward from the band season that didn't qualify them for Champs in 15th place with a score of 76.8. But, this season holds a bigger hope.
The team can't wait for the upcoming classifications show that determines where they lie for a certain division on February 8th at Bellflower High School. In contrast to that, there is a load of pressure and stress placed on them due to the loss of their former coaches, but, they managed to pull a show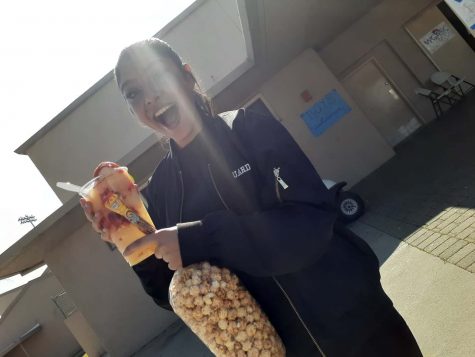 through the grief in under a month! Overall, at the end of the day, this guard will be unrecognizable due to the fact that they will end their last place streak from previous years and be recognized for their achievements.
Captain Emily Faith-Lamas and a junior, is proud of where they stand at the moment and said, "to me, I feel like as a captain, I did prepare the guard as much as I could." She said that the guard is prepared for classifications as the pieces to the puzzle are coming together as well as the drill and basic concept of the show. With practice on Tuesdays and Thursdays from 3 to 5:30 and 6 to 9, there is no doubt that this team will overcome the fear of performing in no time.
Briana Corona, another captain and junior, is very optimistic and believes that they all are "very nervous and fidgety." She is ecstatic for the start of the season as the team becomes more consistent with their technique as well as their durability to withstand whatever comes their way. With its complexity and simplistic work or even bruises! To conclude, she said, "We have new coaches this year so it was a big change however, its a great experience for us to make a change in our little world."
"
We have new coaches this year so it was a big change however, its a great experience for us to make a change in our little world."
— Briana Corona
To say the least, the progression within the guard has indeed been a catalyst for the upcoming show as results show they have moved up a division after years of a stagnant division of AA. Therefore, it has definitely been a boost in confidence for each performer and the headstrong guard continue put a foot forward to end their season with a medal around their necks.