Healthy as Fudge Cinnamon Rolls
Yes you heard me correctly, no butter no oil no bad anything just good wholesome sweet cinnamon rolls.
December 17, 2020
While the holidays are up and coming (and by the time you're reading this they probably have already passed), the rise of people baking shoots on right up. Some people love peppermint and chocolate combinations and some despise it, some people like gingerbread flavored baked goods and some hate the flavor. Since there are debates between the mint (aka toothpaste to some) and chocolate combo and gingerbread have mixed reviews, we're going with a good old healthy version of everyone's favorite… Cinnamon Rolls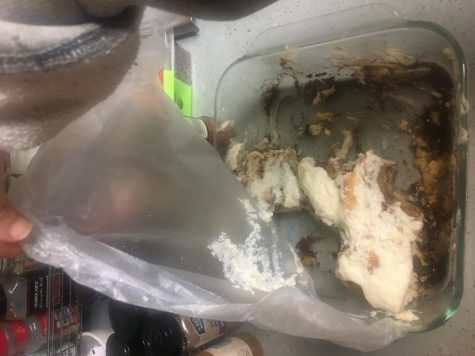 If you are curious about how to make these wonderfully healthy Cinnamon Rolls, here's the recipe.
PASTRY PART
3 cups regular all-purpose flour
one 1/4 oz packet (2 1/4 teaspoon) instant yeast
3/4 teaspoon fine salt
1 cup canned lite coconut milk (not full-fat and shaken beforehand), room temperature
1/4 cup cooked, peeled, mashed Yukon gold potato
3 tablespoons  pure maple syrup
1/4 cup roasted walnut butter (or almond butter, sunflower butter, macadamia nut butter.)
1 1/2 teaspoons vanilla extract
FILLING
1/2 cup coconut sugar
1 1/2 tablespoons ground cinnamon
1/4 cup (64g) roasted walnut butter or almond butter, sunflower butter, macadamia nut butter.
CREAM CHEESE ICING
1 cup (128g) powdered sugar (sifted if lumpy)
2 tablespoons (30g) non-dairy unsweetened yogurt (I use Forager's Cashew Milk Vanilla Bean Yogurt)
1/2 teaspoon fresh lemon juice
INSTRUCTIONS
To a very large, deep tall bowl (if possible), add the flour, instant yeast, and salt. Whisk well.
Cook a medium Yukon gold potato with the skin on wrapped in a damp paper towel in the microwave until squishy soft. 3-5 minutes. If you don't want to use a microwave, bake it, but this will obviously add much more time. Do not boil or steam it, as this will add too much moisture to the potato and affect the dough. Peel the skin off the potato, mash well with a fork and weigh 60 grams in a separate medium bowl (not the bowl with the flour) Set aside.
To the same bowl with the potato, weigh the milk, maple syrup, vanilla (if using), and ONLY 1/4 cup (64g) walnut butter (you'll use another 1/4 cup for the filling). Transfer this mixture to a food processor. Process for a couple of minutes until 100% smooth and no bits or chunks of potato remain. You want to make sure it's totally a smooth liquid.
Pour the liquid (scrape the processor out well) over the dry ingredients. Use a large silicone or rubber spoon, this will be easier than using a metal one. Stir for a few minutes until it comes together into a rough, shaggy looking dough (pictured above). This means it is not smooth or fully mixed. It will seem dry at first, but don't be tempted to add more milk! Mixing by hand (as opposed to an electric dough hook) will take longer. Stir until about 90% of it is combined.
Flour a work surface lightly and scrape the dough out. Knead the dough for just a couple of minutes, rotating, pressing, and flipping over the dough until it comes together into a smooth round ball. This should be fairly quick, as mixing with your hands at this point is much easier than a spoon. Do not over mix the dough, you just want it smooth and combined. Overworking the dough can make for tough rolls. It should not be sticking to your hands, but be easy to work with.
Rinse out the large bowl you just used and wipe it dry. Add the ball of dough back to the bowl. Cover with plastic wrap (sprayed with nonstick spray if it's a short or shallow bowl, otherwise the dough will stick) and seal it around the edges. Alternatively, if you have a really tall bowl like I used, and don't like to use plastic, use a slightly damp towel to cover the bowl. I prefer the plastic wrap method, as it really traps the air and moisture to help the yeast work.
Turn on the oven light, but don't turn the oven on! Place the bowl in the oven and let it rise 45 minutes to an hour, or until it looks to have about doubled in size. Mine took around an hour and a few minutes. Please keep in mind, judge this rise by the look, not the time, as each environment and climate will affect how quickly it rises.
Remove the bowl from the oven once it's ready and scrape the dough back onto the lightly floured work surface. It'll be a comforting warm temperature. Use a rolling pin to gently roll out into a rectangular shape of about 10 1/2 inches wide by 16 inches long. It should be about 1/4 inch thick. Should only take a minute.
At this time, preheat the oven to 350°F (177°C) and line a pan with parchment paper.
Use a pastry or silicone brush to lightly brush on some coconut milk in a thin layer. This is important so that the cinnamon-sugar mixture adheres well and doesn't create open gaps while baking. It also makes the interior moist where butter would normally be used!
In a small bowl, combine the cinnamon, coconut sugar, and ONLY the 1/4 cup (64g) remaining walnut butter. Mix and press together with the back of a spoon or fork until it resembles a moist, crumbly consistency. Sprinkle this all over the dough evenly, leaving about a 1/2 inch border along the edges.
Start with the long end and gently and tightly roll it into a log. You will need to trim off the ends as these are mostly dough without the filling. About 1-2 inches worth. Use a very sharp knife or serrated knife to gently cut into rolls, 1 1/2 inches thick (if rolled out correct) yielded 10 perfect size rolls. The dough will be soft, but they do slice fairly easily. I used a really sharp smooth knife and preferred this over serrated. You will need to hold each roll with one hand as you slice down, doing a gentle sawing motion. In between each slice, pat your knife with a little extra flour. This will help to slice, as the knife gets sticky with the filling.
Carefully pick up each roll and lay it (filling side up) onto the pan spaced at least 2 inches apart. Fit 8 on the first pan. Bake them for 18-20 minutes or until looking golden brown.
Add the icing ingredients to a bowl and stir until it is moistened. It will seem too dry but will come together. Whisk rapidly until completely smooth and sugar is dissolved. After the rolls have come out of the oven, let them sit 5-10 minutes before icing them. Add a spoonful of icing on the center of each roll and spread around to let it drizzle down the sides. Serve while warm! See notes if you would like to bake them in a dish close together.
After done; store in an airtight container and make sure to eat within a few days to maintain maximum freshness and goodness! Happy holidays!