Senior Sports and the Legacy Being Left Behind
(Senior) Ryan Kim, and (Senior) Dominic Vecino discuss the difficult 2020-21 season.
June 2, 2021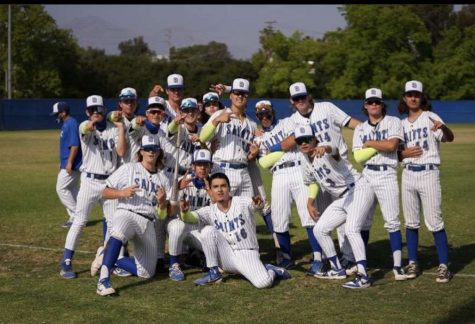 Although this year has had its ups and downs our student-athletes chose to focus on the bright side of the situation.
Senior Ryan Kim and senior Dominic Vecino turned an excuse to not perform into motivation to be better.
Kim, currently one of the star baseball players for the Saints, continued to improve and work out during the off-season during COVID. His dedication is truly what it means to be a Saint.
Vecino, who is a star swimmer at SDHS, is another fine example of what it means to be a Saint. Both of these young men continued to better themselves for the sport they play and kept the momentum moving forward steadily.
These men walked into the shadows not knowing whether or not they would have a season this year at all. Vecino says he would consistently run on the treadmill and lift weights — while Kim would stay in shape by maximizing his weights and keep up with the baseball consistency. At the end of the tunnel, there was a light for both of them.
The SDHS Boy's Swim Team ended up with a full season, in which they came out on top. They also were undefeated and took home multiple league event wins at the finals. On top of that, the Saints swim program had both the male and female league MVPs this year.
Vecino states, "It's hard not to be romantic about swimming. I mean look at what we had to face this year. Not only were we affected by COVID, but we also had the least amount of swimmers in the past decade to ever compete. I am proud of both the men and the women Saints for not only competing but also showing the dedication to stick with it when it would have been easier to walk away."
On top of the Saints Swimming program having an enormous year, our SDHS baseball team also did some incredible things.
Kim states," Although we might not have had the highest scoring games, I think that this year meant something more to us than that. Even though we have come out and dominated win after win, I feel as if we truly made something happen. We own this league, and we will continue to as well. Our team mentality is not only positive but everyone wants to work to get better. It's sad to think that this will be my last time playing high school ball, but I am excited to play in the future for CBU."
There will always be a light at the end of the tunnel if you believe there to be one.  These men truly care about their sports and the team mentality for not only this past season but also for future generations to come. They have put on a show and it was exemplified through their actions and words during both of their seasons.
Although it is the end of an era for these sports, they will never be forgotten here at San Dimas High School. They have left something behind greater than a statistic. They have left a legacy that won't be short-lived. They have left the greatest gift of all, passion. Passion for the love of the sport each of them has played, but not only for their sport but rather the love of sports is what's important.
"
We own this league. "
— Ryan Kim