The Unsung Heroes of San Dimas High School
Meet the people who are the backbone of our school
October 1, 2018
As with any large business or institution, there are always unrecognized individuals who are the fiber that holds it all together. At San Dimas High School (SDHS) there are staff members behind the scenes who are going above and beyond every day. These people deserve to be recognized for their dedication to the safety and well being of the students, the staff, and the campus of SDHS. Here are their stories: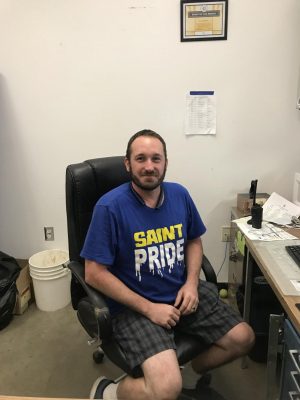 New to the SDHS staff this year, Boys Locker Room Attendant, Brad McKibben (you can call him Brad) works from 6:30 a.m. to 3 p.m. five days a week. McKibben is in charge of the assignment of lockers, the cleanliness of the locker room and gym, and is responsible to ensure the locker room is a safe and judgment-free environment.
McKibben also has other duties such as helping with the setup and teardown of different sporting events and plays a part in taking care of the field house. When asked what students can do to help make his job easier McKibben laughed and said: "flush the toilet".
He went on to say that he wants students "to be conscientious of each other" and that "each person has a circle that impacts the people around them". McKibben also wants students to know that "if anybody is in need he is available to help". McKibben said that the thing he enjoys most about work is "the interactions with the students and the peers his age". He says that he "gets to have a lot of fun at work" and gets to "talk about sports and joke all the time".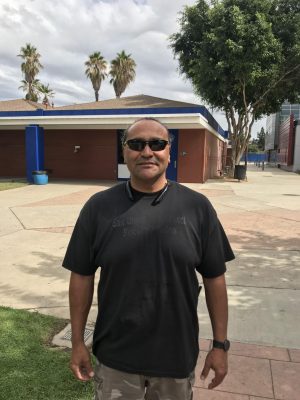 Since 1999, Head Custodian, Herb Perez has been a key part of the SDHS family. He says that it is okay for students to call him by his first name Herb and he works from 5:45 a.m. to 2:30 p.m. every week. His job responsibilities include supplying our staff members with whatever they need and keeping the school safe and clean. Perez said that students can do their part by "cleaning up after themselves" and he "just wants them to respect the school".
After inquiring about what Perez enjoys most about his work he said "the students" and added, "each character is different, they actually make my day". He expanded and said, "everyone says my job is very important but I'm just doing my job and I enjoy it".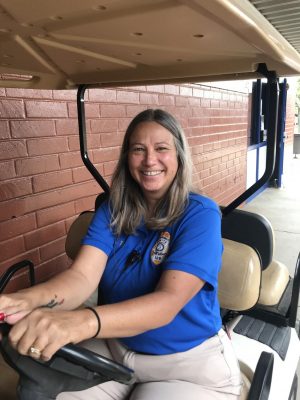 Returning for her 19th year, Lead Campus Supervisor, Tina Fuqua is in charge of the safety of every student and staff member on campus. Every day Fuqua works from 7 a.m. to 3:30 p.m. and acts as a second set of eyes to ensure students are doing what they should be doing as well as making sure no one comes onto our campus to harm any of us.
Fuqua prefers students call her Tina because her last name is Fuqua and students have a tendency to "butcher" it. When questioned, Fuqua said that students can make her life easier by "staying in class when they need to be" and "when asked to do something do it right away so that we [the staff] do not need to constantly repeat ourselves".
Fuqua said, "I love that the students respect me and I understand that some of them can be going through tough times, so I always try to make a point to say 'Hi, how are you today?'". She expanded, "when somebody says 'Hey don't mess with Tina' it feels good to know that a lot of people have my back. I love that feeling". Fuqua continued and said that what she enjoys most about her work is "the students. interacting with these kids every single day" and that she "loves her job working here [SDHS]".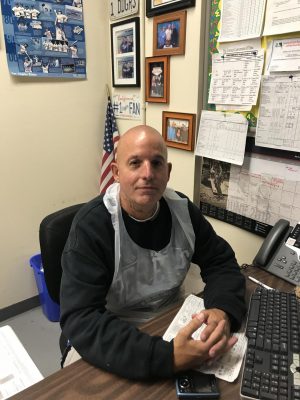 High School Kitchen Manager, Anthony Lewis, has been working in the school food service for 30 years overall, 20 of those being here at SDHS. Lewis and his staff work 6:30 a.m. to 1:30 p.m. every day. Lewis likes the students to call him Anthony.
Lewis' job responsibilities include ordering the food for each meal, keeping food supply records, hiring student workers, making the breakfast menu, and creating the schedules for the lunchroom staff. All Lewis wishes is for students to "be respectful of not just me [Lewis] but also the other students just like they would do anywhere else".
He says that all students need to do is "just wait in line and not take advantage of other students by cutting". He continued and said, "the kids are outstanding here [SDHS]. I love this school and I love to talk to the kids and see what they like and what they don't like on the menu." Lewis added, "it isn't just me but the other ladies who are at the front lines. I'm glad that they get a lot of 'Thank Yous' because they deserve it". He expanded and said that "it takes all of us six staff members here to work together and get the job done".
The unsung heroes of SDHS are members of our staff that work to make our school experience the best it possibly can be. These are people who put in countless hours towards our school and deserve appreciation for the work that they do. These people love it when students interact with them and just want students to respect them and our beautiful school.