Saints bring home the win at this year's Smudgecup
December 15, 2021
On Wednesday night December 1, 2021, the annual SmudgeCup soccer game against Bonita took place as Saints, both boys and girls, defeated the Bearcats by a landslide. Saints are coming into this season with strong mentalities as the starting lineup for 2021 has proven to be pretty talented looking towards a great season ahead. 
Despite not having three of their State Championship stars the girls varsity team and while battling two injuries the girls varsity team managed to come in strong throughout the first half. They won in Penalty kicks 3-1 with goals scored by Reagan Parkhill, Alyssa Caton, and Maddy Moris. Maddy Moris took the lead with three blocks in the penalty kicks keeping Bonita at one goal for the remainder of the game.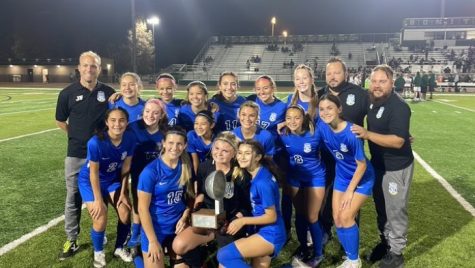 The boys varsity team was dominant from the beginning, winning 4-1 with goals from striker, Gael de Leon, and Kerillos Nelson. "We were playing very high intensity and then we scored with a pretty good goal in the first half which got us even more hyped," senior, Kerillos Nelson said. "The second half got a little scrappy as the Bonita kids weren't in the lead," senior Jason Thomas explains.
"
They got dominated by every sport and they're just cats you know? They're scared
— Kerillos Nelson
Overall, the boys were met with the expectations of a fairly easy game as the Saints have improved and brought together one of the strongest teams and starting lineups. "They got dominated by every sport and they're just cats you know? They're scared," states Nelson. Saints highly anticipate a victorious remainder of the season with the Smudgecup setting the tone for all games to follow.