Artist of the Month
March 7, 2022
1. When did you start getting into art and drawing?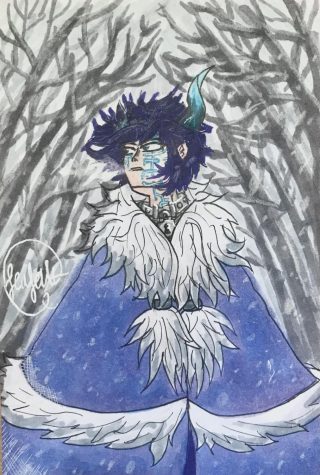 "Honestly, I started pretty early. I think I started drawing around like 4 years old when I just started holding a pencil and started doodling".
2. What is your favorite style of art?
"Well, Anime I suppose and cartoonist. I find the simplistic shapes easier to draw".
3. What is your least favorite style of art?
"Realism, my perfectionism kills me whenever something doesn't look right".
4. Do you have a certain style of art that you prefer?
"Like I said earlier, cartoonish and Anime, but I like to branch out into other art styles".
5. Do you plan on going further with your art as a career?
"No, but I do find myself doing it as a side job like selling some of my art pieces on Etsy".
6. Do you have any favorite artists or people who inspire your art the most?
"Not really one person but I do find inspiration in multiple other artists and it kind of shows up in my art style. I do like Von Lhemes paintings, I might want to replicate some of those in the future".
7. What is your favorite art material to use?
"My favorite art materials are alcohol markers".
8. What are some of your art goals?
"I want to finish a sketchbook for memories by the end of this year".