Galentines Day
The Significane of Galentines Day
February fourteenth, also known as Valentine's day, is celebrated by many people worldwide, but some students at San Dimas have celebrated the unofficial holiday: Galentine's day. The unofficial holiday's purpose is to celebrate the importance of girl friendships. 
Senior Kimberly Taylor, celebrated the day by spending time with her friends and taking cute Instagram pictures. "Valentine's Day is different from Galentine's because me and my friends set aside that day for just the girls only." Taylor states. Galentine's Day is set for the girls and emphasizes the importance of having that special day instead of one's romantic partner. The vibe of the day is just filled with laughs and love overall.  
Female friendships are super important and this day shows it off.  Taylor states, "It's important to celebrate female friendships because there's a special bond between all of us". The day is all about doing cute things most boys would despise, dressing up, eating fun desserts, and of course‒ getting those Pinterest aesthetic pictures for Instagram. "I think the significance of Galentine's is to dedicate a day solely for the purpose of appreciating girls in my life!" she explains.
Coordinating the day can be very fun to plan and layout. Many girls usually have picnics, shop around, or have a cute girls dinner but, there's no wrong way to celebrate the day. As long as you spend it with a woman in your life that you love. Taylor and her friends had a cute detailed picnic at a park. "I spent my Galentine's by having 3 of my close girl best friends come over for a pink, red, and white themed picnic and took a bunch of pictures before we ate all the snacks!" she describes. Planning it was fun for her and she wants to plan more days like this.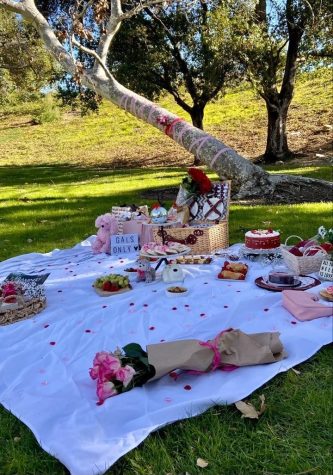 Planning for Galentines is different because it's more coordinated rather than just a typical day out at the mall and devoted to spending time with your girlfriends. 
"A typical girls' day would probably consist of just dressing up and going shopping or something but Galentines was much more detailed in the planning process because we helped each other pick our outfits and plan what to bring," Taylor claims. It's always fun to get dressed up and eat fun snacks like chocolate-covered strawberries or heart-shaped cookies. As much as it's really just another girl's day out, the true meaning at the end of the day is to celebrate the women in their lives that they can count on and have deep connections with always.