Girls Basketball 21-22 Season
A recap on the lady saints season
March 3, 2022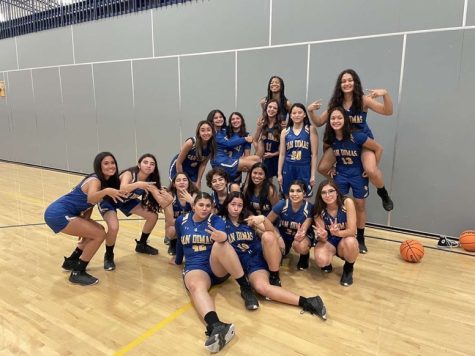 Having gone to the CIF finals last year and the first round of state, expectations for the young team were extremely high. All of the girls knew that they had a lot to live up to, however, they all knew it was going to be much tougher. Since they did so well last year in division 4, they have moved up two divisions, to 2AA. This meant that the level of competition was going to be raised, much more than they would have ever faced last year. Even so, coach Jackson and his players knew that they would be able to compete, as long as they dedicated their time to training and working as a team.
One of the many benefits of having a younger team is that they have the ability to learn from their mistakes and learn as a team. Having a winning team last year only meant that they would be able to continue this mentality. This year, the top three scorers per game were Janessa Rodriguez(So), Olivia Romero(So), and Allison McGill(Jr). This means that all three of these girls will be returning next year to make an even bigger impact. These girls led the lady saints with a record of 8-2 to Valle Vista league champions. The last time this occurred was 16 years ago, in 2006! Although this was an amazing accomplishment, the lady saints knew that they had a long road ahead.
Keeping in mind that the competition was going to be a lot stiffer, going into the first round of CIF and having to play a tough Santa Barbra team, the girls were all extremely nervous. Senior Razan Darwiche reminisces on her exact emotions leading up to the game. "It was so nerve-racking, knowing that this game could be the last. At the time, obviously not knowing we would only lose by 2 points, I was still pretty confident that we as a team would be able to pull through and put up a good fight." Throughout the entire game, the lady saints seemed to be in control of the game. Shots were falling, and they seemed likely to win. However, after an unfortunate change in events, towards the end of the third and the start of the fourth quarter, the opposing team was able to come out with the lead, and eventually able to win the game by merely 2 points, and the final score being 37-35. It was devastating to watch the girls in tears as their run in CIF was soon over.
Even so, these ladies deserve a lot more credit than given. Day in and day out, they are constantly at the gym, whether it be conditioning outside on the track or getting more shooting reps in the gym. Despite troubles with COVID affecting several of the girls, they were still able to rise above and do their best with their situation. It's extremely tough when both girls and boys play the same sport; more often than not the boys get all of the hype and the special perks. It is even evident through the crowd, where it is obvious the boys get more support from their peers than the girls. Last year, the lady saints made it all the way to the CIF finals, yet it was almost unheard of. "I know that we aren't seen the same, and it sucks knowing that people think we don't work as hard as the boys. What keeps me going is the girls and how fun they make playing, and that's what makes it all worth it" stated Darwhiche.
Regardless, these ladies have nonetheless proven why they are a force to be reckoned with. Although falling short of the goal this year, this will only motivate them to work even hard towards their goal. Juinor Allison McGill explains " I am sad, not going to lie to you, that we lost so early in CIF. I thought we would go a lot farther. I know that this team still has a lot more growing to do and there's only one way to go, which is up. All we can do know is practice more, and do better next year." These ladies will come back stronger than ever, and will no doubt have yet another astounding season as they did this year.